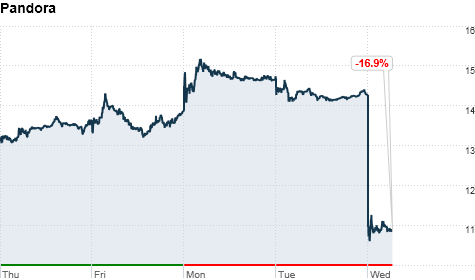 Click the chart to track Pandora's stock.
NEW YORK (CNNMoney) -- The more music Pandora streams for its burgeoning audience, the more it has to pay in royalties. And unless it can draw in more advertising sales to pay for those fees, the Internet radio site will continue to take a hit on its bottom line.
Founded in 2000 as the Music Genome Project, Pandora (P), which went public in 2011, has struggled to turn a consistent profit.
Shares tumbled almost 25% Wednesday, a day after the Oakland-based company posted a fourth-quarter loss of $8.2 million, or 5 cents per share, falling short of forecasts. Sales during the quarter also missed estimates, coming in at only $81.3 million, compared to Wall Street's call for $83.1 million.
The trouble has come as Pandora's popularity, and in turn its expenses, outpaced its ability to rake in enough advertising.
"The question mark in P's model is that higher listener hours directly translate into higher content licensing costs but not immediately into higher advertising revenues," said John Tinker, media analyst at Maxim Group, in a note to clients.
As total listener hours doubled during the fourth-quarter, so did the company's royalty costs. At the same time, ad revenue only rose 74%.
But Tinker is hopeful that higher listening hours will attract more advertising revenue over the long term, as Pandora continues to steal radio listening market share. He noted that the company now claims 5.6% of the total U.S. radio market share, compared to just 2.7% a year ago. Tinker targets Pandora's stock a dollar above its IPO price at $17 a share.
Pandora, which provides its service to Apple's (AAPL, Fortune 500) iPhone, Google's (GOOG, Fortune 500) Android and other mobile devices, also stands to gain as advertisers get more comfortable with mobile spots, said Wedge Partners analyst Martin Pyykkonen.
"We think Pandora's results and comments echo the current state of mobile platform advertising," said Pyykkonen. "It's still early innings, as advertisers grapple with finding effective means of measuring mobile advertising spending."
He added that Pandora has a lot of headroom "to add more audio and display ad impressions, without alienating consumers."
Pandora CEO Joe Kennedy is also optimistic.
"Pandora continues to rapidly disrupt the radio industry and has only just begun to realize the potential of our $37 billion U.S. market opportunity," he said in a statement.
But the company's forecast for the fiscal first quarter of 2012 was disappointing.
The company expects to deliver a loss of 18 cents to 21 cents a share during the three months ending April 30, on sales between $72 million and $75 million. Analysts were expecting a loss of just 4 cents a share on revenue of $83 million.