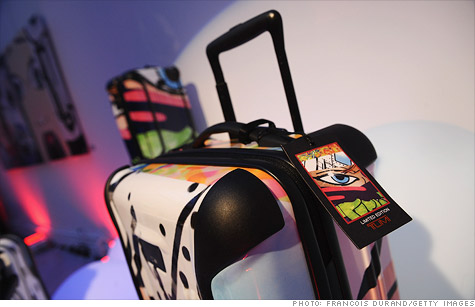 Products of luggage-maker Tumi are sold in over 70 countries.
NEW YORK (CNNMoney) -- Shares of software firm Splunk and luggage-maker Tumi shot up Thursday in their first day of trading, continuing the recent run of successful IPOs.
Splunk (SPLK) shares were nearly double the level at which they were priced by the company. The stock opened at $32 and remained around there in midday trading on the Nasdaq after Splunk priced shares Wednesday at $17.
Tumi (TUMI) shares opened at $26 and traded around $27 on the New York Stock Exchange Thursday after being priced a day prior at $18.
The companies are the latest in a parade of strong IPOs to hit the market in recent months. So far this year, the median gain for U.S. IPOs on their first day of trading is 9.4%, according to Dealogic.
Organic food maker Annie's (BNNY) was above the $40 mark Thursday after pricing shares at $19 less than a month ago. Shares of online reviews site Yelp (YELP) are around $24, more than 50% higher than the $15 at which they were priced in March. Tech firm Millennial Media (MM) is also well above its March offering price of $13.
Looming in the background is Facebook, which is expected to have its landmark IPO next month.