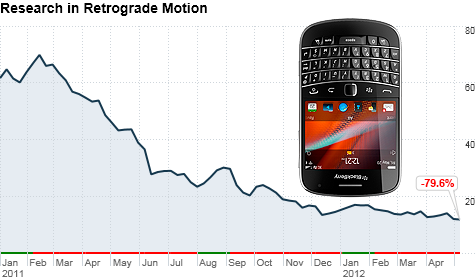 NEW YORK (CNNMoney) -- It's hard to find a stock that is hated more on Wall Street -- and, for that matter, on Bay Street in Toronto -- than Research in Motion.
Shares of the Waterloo, Ontario-based maker of the BlackBerry phone and PlayBook tablet are down nearly 20% this year. That follows a 75% plunge in 2011. The stock now trades for less than $12 a share, its lowest level since late 2003.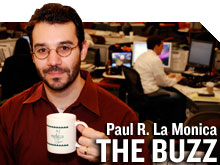 Just call it the BleakBerry. RIM (RIMM) was unable to convince many skeptical analysts at the BlackBerry World developers' conference in Orlando, Fla., last week that new devices running on its soon-to-be-released but often delayed BlackBerry 10 platform will stop the bleeding.
Simply put, the BlackBerry is now fourth in what looks like a two-horse race in the global smartphone market. RIM trails Samsung, which has been wildly successful with its Galaxy line of phones running on Google's (GOOG, Fortune 500) Android, and Apple (AAPL, Fortune 500) and its iPhone by a wide margin in market share.
RIM is also behind Nokia (NOK), which is hoping to claw its way back to relevance by hitching its wagon to Microsoft's (MSFT, Fortune 500) Windows Phone operating system..
Yes, RIM still has 77 million subscribers. But analysts worry that the launch of BlackBerry 10 devices sometime in the second half of 2012 will not help the company all that much. Even though RIM's maligned co-CEOs stepped down in January, new CEO Thorsten Heins still seems to be pursuing the same misguided strategy.
"RIM bet the farm on the devices launching later this year," said Michael Holt, an analyst with Morningstar in Chicago. "It's not impossible that the company could succeed, but things are against it, given the competition and how late it is to the game with BlackBerry 10."
The biggest stumbling block for RIM may be that most smartphone users have moved to flashier devices with touchscreen functionality and many more apps.
RIM's decision to stick with its own operating system and not open up the BlackBerry to Android, Apple's iOS and Windows Phone could be a tragic mistake. The new phones will test BlackBerry users' loyalty, since they cannot simply upgrade existing devices with the new platform.
"BlackBerry 10 won't work on older devices. So the company is saying to its users that to experience BlackBerry 10, you have to make a decision whether or not to stay with RIM or switch to iPhone, Android or Windows," said Alkesh Shah, an analyst with Evercore Partners in New York. "My concern is that initial sales of BlackBerry 10 phones will be disappointing."
Shah is predicting a steady drop in subscribers over the next few years to about 61 million in 2015. That assumes that RIM does not change its strategy and, like Nokia, look for an operating system partner.
But it could get worse more quickly than that. While RIM has more than $2 billion in cash, Sameet Kanade, an analyst with Northern Securities in Toronto, worries that the company may soon be forced to start spending that money at a quick pace to try and drum up sales for its new phones.
Kanade thinks that Verizon (VZ, Fortune 500), AT&T (T, Fortune 500) and other wireless service providers may not be willing to offer new BlackBerry phones at big discounts the way that they are with more popular devices like iPhones and Android phones.
"Carriers are not going to subsidize the fourth-place phone," he said. "So RIM is going to have to spend on marketing and customer promotions to try to gain market share. When you do that, you can blow through your cash quickly."
That, in a nutshell, is why analysts are still wary of the stock. Shah is the most optimistic about RIM. He says that RIM could be worth as much as $20 a share in a break-up scenario -- i.e a sum of the parts that looks at the actual business, its cash and its intellectual property.
But Shah still isn't recommending the stock because he concedes that earnings are likely to be woeful for the foreseeable future. Analysts have been busy cutting their forecasts, and expect profits and sales to fall in this fiscal year and next.
"There are things RIM could do that can move the stock up three years from now, but the fundamentals will get worse before they get better. The transition will be painful," he said.
You might be tempted to declare that RIM is a cheap stock that can't fall much further -- shares trade at just 6 times earnings estimate for this fiscal year. That would be a mistake.
"This stock could go into the single digits, and it looks like it may be heading there soon," said Kanade, who has a "sell" rating on RIM.
"RIM took its own sweet time to get out a new platform," Kanade added. "In the tech world, three years is three years too late, especially when you have Samsung and Apple seeming to come out with new products every six to eight months."
Holt said his fair value estimate is not that much higher than current levels -- $14 a share. Still, he said that the stock probably needs to fall to below $8 before he'd be willing to recommend it as a buy.
"RIM has things that are valuable. It has a customer base that, while shrinking, has value. It has intellectual property, " Holt said. "But if you have concerns about the road map, it's tricky to value the company."
And he doesn't believe that there is going to be a white knight to save it either -- at least not at its current price.
RIM has been unfavorably compared lately to Palm, another pioneer in smartphones that lost its way. It was bought by Hewlett-Packard only to be essentially shut down after HP (HPQ, Fortune 500) failed to make a dent with its own smartphones and tablets.
But HP bought Palm for only $1.2 billion. RIM still is worth more than $6 billion, despite all its problems.
Best of StockTwits: Surprise! Europe is still in the headlines! And traders debate whether Warren Buffett is still an Oracle.
MarekFuchs: If I only had a croissant for every time the market acted like the European crisis was finally over. #stockaction
StkConfidential: Response to elections in Greece & France more muted than many expected. Shouldn't surprise you if you waited for market to interpret it.
Agreed. Investors constantly surprised by the fact that Europe can't simply wave a magic wand and painlessly solve its massive debt problems seem to be the same ones that are always stunned by data that shows the U.S. economy is still stuck in a slow-motion recovery.
Ktr8der: From the March 2009 bottom: $BRK.B +58%, $INTC +119% &$KO +89% without dividends. #BuffettStocksBetterThanBuffett ?#BuffettWeekend
EddyElfenbein: Since June 19, 1998, Berkshire Hathaway is up 50.74%. The Wilshire 5000 Total Return Index is up 74.31%. Nearly 14 years of underperformance.
Those are fair points. But I think that Buffett would be the first to admit that he is not going to judge Berkshire Hathaway's (BRKA, Fortune 500) investments on only three -- or even 14 -- years of performance.
vcutrader: Best Buffett Quote lol: When we started [at] $BRK.A, gold was at $20 & BRKA was at $15. Now gold is at $1600 & BRKA is at $120,000.
Ha! Let's check back with Facebook in 2062 and see if Mark Zuckerberg has been able to pull off an 8000-fold increase from its IPO price.
The opinions expressed in this commentary are solely those of Paul R. La Monica. Other than Time Warner, the parent of CNNMoney, and Abbott Laboratories, La Monica does not own positions in any individual stocks.