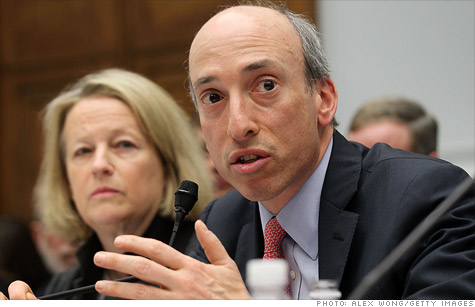 CFTC Chairman Gary Gensler said the JP Morgan Chase losses highlight the need for tough international rules on financial trades.
WASHINGTON (CNNMoney) -- A top regulator said on Monday that tougher rules are needed for international trades to prevent the financial collapse of 2008 and recent losses by JPMorgan Chase.
Gary Gensler, chairman of the Commodity Futures Trading Commission, blasted lax rules for the collapse of American International Group (AIG, Fortune 500), Lehman Brothers and Bear Stearns, saying they all fell in part to risky bets the firms had arranged overseas.
Gensler said JPMorgan Chase (JPM, Fortune 500) is the most recent "stark reminder" for why tougher rules are needed.
"The largest U.S. bank, JPMorgan Chase, just suffered a multi-billion dollar trading loss from transactions in London," Gensler said, according to prepared remarks of a speech before a Financial Industry Regulatory Authority conference. "It appears that the bank here in the U.S. is absorbing these losses."
Gensler said that tougher rules should ensure swaps deals arranged overseas are traded on clearinghouses, so that their value is understood to prevent future financial disasters.
Swaps involve exchanging one asset for another to gain financing advantage.
Gensler's speech notes that swaps, now comprising a $700 trillion notional global market, were developed to help manage and lower risk for commercial companies. But they also concentrated and heightened risk in international financial institutions.
"It's critical that we do not retreat from reforms that will bring greater transparency and competition to the swaps market, lower costs for companies and their customers, and protect the public from the risks of these international markets," Gensler said.
Gensler's panel is tasked with implementing parts of the Dodd-Frank Wall Street reforms that would force many of these complex financial trades onto clearing houses.
However, his group has faced criticism for leaving too much room for companies making big trades to hedge against risk.
JPMorgan Chase has said its overseas trades were made to hedge against economic risk. As of now, no regulations ban such trades or require they be posted on clearinghouses.
But Gensler suggests that the trades in question would be regulated, if they're "guaranteed by a U.S. entity."
JPMorgan declined to comment for this story.