Edward Solomon - Fighting for credit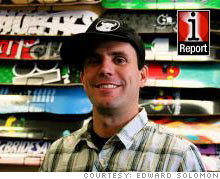 Owner, OC Surf 'n Sport
Dana Point, Calif.
We are an online bodyboard shop (boogie boards) retailer that recently opened a brick-and-mortar skate/bodyboard/surf shop one year ago. I also sell bodyboards wholesale. I get hundreds of thousands dollars in orders from sporting good stores and surf shops, but it is very difficult to fill orders without credit lines - which are nearly impossible to get.
We did get one credit line last year for $25,000. I paid it off within three months, but now they've frozen it! I have unreal opportunities but can't capitalize to my full potential because of lack of funds. I started everything I have with only $6,000 five years ago and am now doing close to $1 million in sales this year, so I should not complain, but it could easily be $2 million if I had access the funds!

NEXT: Ken Huntman - Waiting for payments