Lindsey Wolko - Tough times demand creativity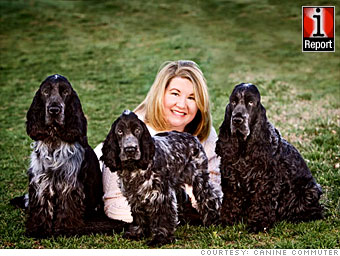 Lindsey Wolko with Canine Commuter test pilots Spencer, Madison and Maggie
Founder, Canine Commuter
Haymarket, Va.
The current economy has been tough, no doubt. High gas prices and higher grocery costs have not made life any easier. To launch a small business in this economy, you have to rely on instinct and learn innovative marketing techniques to build your business and to get your message across.
Canine Commuter was started as a mission to keep dogs and other companion animals safe when traveling. After having one of my dogs injured by a poorly designed product, I developed the concept. We sample, use and review products to help our customers make the best possible product selections for their pet.
As a small business owner, you have to think outside the box where marketing is concerned and try new, innovative ideas on to see how they work. Additionally, you have to constantly monitor and modify your business model to fit the current economic conditions. I firmly believe in our mission, helping dogs and consumers stay safe on the road. That makes all the difference in the world, and keeps me going to work every day.

NEXT: Yvonne Coverdale - Launching in a down market