Seeking a sugar daddy (or sugar-mama)? Follow the money to these towns and cities, where affluent young professionals are abundant.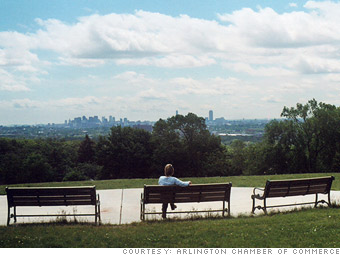 Population: 41,100
Single: 33.0%
Median family income: $102,681
Folks in Arlington benefit from their proximity to Boston but enjoy the quiet of suburban life. Massachusetts Ave. is the "spine" of the city, where residents go to shop and dine. If you're an old-fashioned guy or gal -- and we mean
really
old-fashioned -- be sure to check out the historical reenactment of a Revolutionary War battle on Patriots' Day. Seeking a thespian? Volunteer for the community theater, or audition for a show: you could meet the Juliet to your Romeo. There are no bars in Arlington, but Boston's bustling social scene is just a stone's throw away.
See complete data and interactive map for Arlington
NEXT: Madison, NJ
Last updated July 13 2009: 7:59 AM ET