Seeking a sugar daddy (or sugar-mama)? Follow the money to these towns and cities, where affluent young professionals are abundant.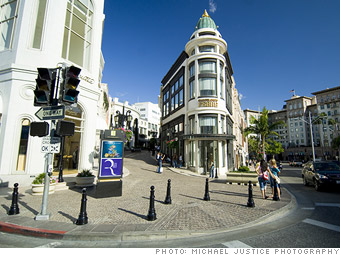 Population: 34,597
Single: 31.0%
Median family income: $132,803
Rub elbows with the beautiful people in super-luxe Beverly Hills. You'll find fashionistas, entertainment industry insiders, and financial gurus to flirt with in this exclusive zip code, and they're living in some of the country's most beautiful -- and most expensive -- homes. Young singles spend happy hour at one of the chic hotel bars in South Beverly, such as Avalon or Maison 140, where celebrity sightings are common. Other hotspots include the nearby Sunset Strip or Downtown L.A. To look your best, head over to Rodeo Drive to pick up some new designer duds.
See complete data and interactive map for Beverly Hills
NEXT: Montclair, NJ
Last updated July 13 2009: 7:59 AM ET