Seeking a sugar daddy (or sugar-mama)? Follow the money to these towns and cities, where affluent young professionals are abundant.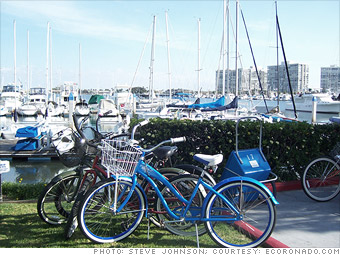 Population: 22,845
Single: 36.1%
Median family income: $106,817
A peninsula surrounded by white sand and sparkling waves, Coronado is the perfect place for hanging out at the beach. Bond with fellow commuters on the ferry to downtown San Diego. During the day, you'll find active locals at the golf course, tennis court or sailing around Coronado Bay. In the evening, take a date to the Ferry Landing to listen to live music and watch the sun set over downtown San Diego. If you're looking to broaden your dating pool, check out the trendy bars and clubs in San Diego's Gaslamp district.
See complete data and interactive map for Coronado
NEXT: Edgewater, NJ
Last updated July 13 2009: 7:59 AM ET