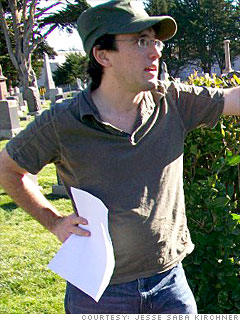 Jesse Saba Kirchner, 26, is a graduate student at the University of California at Santa Cruz.
Question: "It seems like TARP and the other measures taken so far haven't worked, at least not as well as they were expected to. What's happens if the stimulus plan fails? Is there a backup plan? How long will it take before we know whether it's working? -- Jesse Saba Kirchner, Santa Cruz, Calif.
Expert:
Mark Gertler, professor of economics, New York University
Answer:
"The scenario policymakers are trying to avoid is Japan of the 1990s, where there was persistent stagnation for nearly a decade. Our policymakers are much more aggressive than the ones in Japan at the time, and they've learned a little bit from the Japanese experience, so it is very unlikely that we would have anything like the Great Depression.
But it's key that the political process not break down.
If we have a political deadlock that limits any action from being taken, or more specifically, if the current stimulus package degenerates into a fight over different pork barrel projects, that could send us from a recession toward a depression.
I think everybody agrees that some action has to be taken. There is debate over the mix of the action - and it's an honest debate - because we're not sure how these policies are going to work.
My own view is that I would put equal weight on stimulus and fixing the financial system. If either of those get bogged down in the political system, that's where we see the potential for a Great Depression."
Expert:
Garett Jones, associate professor of economics, George Mason University
Answer:
"If stimulus fails, then we'll let the Fed cure most of the recession, just as we should be doing anyway.
During the Great Depression, economists said that only a big government stimulus could save the economy. But Milton Friedman and Anna Schwartz came along in the 1960s and convinced most economists - both Keynesian and monetarist - that the real way to cure the Great Depression would've been to grow the money supply instead.
Ben Bernanke has taken Friedman and Schwartz's lesson to heart, and so he's grown the broad money supply - currency, checking, and savings accounts - by 10% over the last year.
Friedman always taught that money impacts the economy with 'long and variable lags' of a year or more, so we won't start seeing the effects until this fall, at the earliest. But that's well before most of the Obama stimulus will be hitting the economy anyway.
So even as we debate and discuss the pros and cons of a fiscal stimulus designed by Congress, Bernanke and his colleagues at the other end of the Mall are already creating a more reliable stimulus: Money growth."
NEXT: Robbing Peter to pay Paul?
Last updated April 14 2009: 11:56 AM ET
Email
|
Print
|

Digg this story
|

RSS