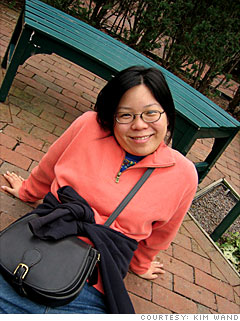 Kimberly Wand, 28, is a massage therapist in New York City.
Question: "I am confused about *how* the government is bailing us out of debt. Where does the stimulus money come from? Is the government just printing more?" -- Kimberly Wand, New York City
Answer:
No. The presses are not running overtime. A spokeswoman from the Bureau of Printing and Engraving said the agency's print order has not increased.
In any case, that's not how the government injects money into the economy. Instead, the government sells Treasury bills - very short-term debt obligations - on the open market. When the government sells those securities, it scores cash for the reserves.
That's the chief way the government will try to fund the proposed $815 billion stimulus package, says Kim Rupert, fixed income analyst at Action Economics.
There is no limit to the amount of debt the government can sell, but Rupert warns that there is no guarantee the government will find enough buyers to absorb the supply. If the market finds better ways to invest its money, the government won't be able to raise more funds for its efforts. Instead, it would have to increase taxes.
For right now, however, the economic slowdown has spurred a strong appetite for Treasurys, which are considered safe places to put money during a downturn.
So could all this extra money accelerate inflation? Economist opinions differ.
"It's a tremendous package, so down the road it should cause inflation," Rupert said.
But Jeff Madrick, senior fellow at Schwartz Center for Economic Policy Analysis and author of the November 2008 book
The Case for Big Government
, said the danger is remote.
"The recession is already so deep that extra money in the system will not cause inflation in the foreseeable future, or even in the long term," he said. "As the economy tries to recover, there will be too much unemployment and too many unused factories and stores for inflation to accelerate."
NEXT: Less money for consumers?
Last updated April 14 2009: 11:56 AM ET
Email
|
Print
|

Digg this story
|

RSS