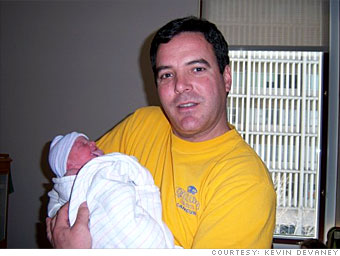 Kevin Devaney, 43, owns Evergreen Auto Glass. He is seen here holding his newborn baby daughter, Lyla.
Question: "Part of the economic crisis is supposed to be that there was too much easy credit and debt. Now the government is talking about going another $850 billion or so into debt. How do you pay off debt with debt?" -- Kevin Devaney, Randolph, N.J.
Expert:
Mark Gertler, professor of economics, New York University
Answer:
"Well, the debt is ultimately paid off either by raising taxes or through economic growth.
First, let's distinguish between the Treasury and the Federal Reserve. The Treasury is responsible for collecting revenues. The two ways they get funds is through taxes and by borrowing.
What the Federal Reserve is charged with doing is setting market interest rates and making sure that the financial system is stable.

Government debt is paid off by the Treasury taking in more money in the future. But that doesn't completely require that tax rates go up. If economic growth goes up, then revenue will go up.

But, in the end, it can mean that the taxes are just being pushed off to another generation."

NEXT: Retirement-account withdrawls?

Last updated April 14 2009: 11:56 AM ET
Email
|
Print
|

Digg this story
|

RSS