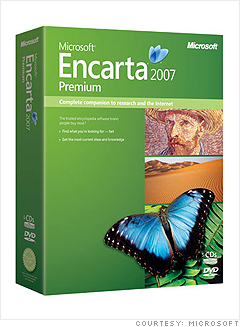 Microsoft quietly closed the book on Encarta earlier this year as free reference materials online came to eclipse the once-popular digital encyclopedia.
Encarta was a relatively revolutionary product when it was first published on CD-ROM in 1993. It contained a trove of articles, images, maps and multimedia features. Later, the content was also accessible online for a yearly subscription fee.
But Encarta's popularity faded throughout this decade with the rise of Web-based encyclopedia Wikipedia. While it has been criticized as inaccurate and unreliable, Wikipedia is free of charge. And, unlike Encarta, it is updated in real time.