Ackman's Target quest falls flat
His proxy fight ends in defeat at the company's annual meeting in Wisconsin, but have investors scored a victory?
Photos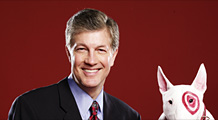 WAUKESHA, Wis. (Fortune) -- It was cold inside the new freezers on display in Target's half-built store in Waukesha, Wis., the site of the mega-retailer's 2009 annual meeting. But it was even colder in the meeting itself for investor Bill Ackman of Pershing Square Capital Management, as his multimillion-dollar, highly public quest to unseat four of the company's board members ended up in a deep freeze.
In the proxy fight, which cost the two sides an estimated $21 million, none of Ackman's five director candidates were elected, despite getting some support from RiskMetrics, the largest proxy research firm. Preliminary results showed that the percentage of votes in favor of Ackman's candidates ranged from the high single digits to the low 20s.
"I just look forward to refocusing," said a relieved Gregg Steinhafel, Target's CEO. Ackman, for his part, decided to declare victory, proclaiming the results "a great day for shareholders," whom, he said, would find more receptive corporate governance in other companies as a result of his campaign.
In any event, Ackman's actions mean he will not have the influence he had hoped for at Target, where he is a holder of stock and options totaling 7.8% of shares outstanding, an investment originally worth over $2 billion that has plummeted by 80% since he bought the shares in 2007. How do Ackman's investors feel about his battle? "I've been too busy to ask them," he joked after the meeting.
Both sides say that their relationship was "cordial" until recently, when the company vetoed Ackman's proposal to spin off the land under the stores into a REIT, and then rejected his request to join the board. Ackman then began an aggressive campaign against the board, impugning the experience of some of the company's board members and their financial commitment to the company.
He proposed his own slate of five directors, each of whom he said brought relevant experience in such areas as credit cards and real estate. Despite an emotional speech at the Wisconsin meeting, in which Ackman teared up while reading a quote from John F. Kennedy, the shareholders didn't buy it. "It was obvious that his needs were short-term and smacked of desperation," says A.J. Epstein, whose family is one of the largest individual shareholders of Target stock and who voted against Ackman's slate.
Although both sides say they are eager to move on, the proxy fight, the biggest and most public in several years, has quite a few long-term implications. Target will certainly have to address Ackman's charge that Steinhafel and the board together own a relatively small amount of stock.
It is also curious that despite the importance of the meeting, only five of the company's 12 board members attended, including only one of the four directors being challenged by Ackman. When asked why they didn't attend, a flustered Steinhafel mumbled something about board meetings not being scheduled at the same time as annual meetings.
Perhaps the longest-lasting result of the proxy fight may be the fact that the press-shy, insular Target (TGT, Fortune 500) management has been reaching out to shareholders. Steinhafel says that he has met with the top 50 investors since the contest began. For a new CEO, that pro-active effort may pay unexpected dividends.
The ever-confident Ackman, for his part, was clearly embarrassed, especially considering how sure he had been just a few weeks ago of winning at least a few seats on the board. Now he faces the prospect of making nice with a company that will have less motivation to return his calls in the near future, even as his giant bet means that his fortunes - and his reputation - are increasingly tied to Target's success.
But Ackman's quest also raises some important issues when it comes to corporate governance - issues that deserve to be taken seriously in future proxy contests. Currently, votes are not anonymous, which means, says Ackman, that some investors don't vote in favor of dissidents for fear of losing access to management. What's more, voters must choose from one slate or the other instead of being able to cherry-pick candidates from a universal ballot. Now being considered by the SEC for use in future contests, the universal ballot might have made a difference here.
In the end, a loss for Ackman may end up being a win for shareholders in future battles.