Snatching the car battery biz from Asia
Ener1 aims to fuel the car of the future and bring jobs to the Midwest. But the jury is still out on whether or not it can compete against its larger, more established rivals.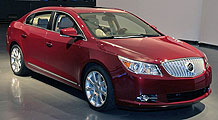 GM is launching a slate of new products. Can they give a lift to the auto giant as it enters a new era?
INDIANAPOLIS (CNNMoney.com) -- Thousands of jobs are riding on Ener1's efforts to build the best car battery in the world.
The start-up firm is the only U.S. company able to mass produce batteries on American soil for an automobile industry poised to make a monumental shift from gasoline to electric power.
Many say whoever controls the battery industry will control the auto industry and the thousands of jobs that go with it.
Ener1's newly opened production facility near Indianapolis could employ 3,000 workers. Like other renewable energy companies popping up in the Midwest, people are hoping Ener1 can replace some of the fast-disappearing auto and other manufacturing jobs.
Its lithium-ion battery technology is praised for being one of the best available. But Ener1 must compete for big contracts against larger, mostly Asian firms with much more experience in this field.
"Things will be difficult," said Brian Sponheimer, an analyst at Gabelli & Co., the research arm of GAMCO Investors. "There's a lot of optimism about their chemistry, but they haven't been tapped for a major program yet."
The race to develop a suitable electric car battery is exciting and Ener1 is certainly fighting hard to win.
Its employees have a desire to usher in a game-changing technology for not only the auto industry but the entire energy sector.
"This should be the dream of all battery engineers, to replace oil," said Naoki Ota, the firm's chief science officer.
The company's spotless Indianapolis production facility is buzzing with activity. Workers in white suits scurry about, trying to hide proprietary technology from our camera.
The company has applied for a $480 million government loan to expand its facility and hopefully allow it to land a big contract. If that happens, Ener1 says it will go on a hiring spree.
"We're talking about a serious growth in people," Ulrik Grape, head of the company's car battery division.
The company could then start making batteries on a large scale. Still, its lack of experience in manufacturing remains a problem.
Many of its competitors, including Japan's Panasonic and NEC, South Korea's LG, and a joint venture between U.S.-based Johnson Controls (JCI, Fortune 500) and the French company Saft, have been making batteries in high volumes for decades.
If Ford or General Motors are going to buy batteries for an electric car, they need confidence the company they're buying from can deliver.
"They need to illustrate their competitiveness," said Sponheimer. "They need to find someone that trusts them."
The company is working on it. They've been supplying the Norwegian firm Think Automotive with batteries for over a year, and recently announced a preliminary deal with upmarket California carmaker Fisker.
These are good starts, analysts say, but the company still needs to prove itself on a larger scale. The lack of experience may be one reason why GM decided to go with LG when choosing a battery supplier for its much-hyped Volt.
Manufacturing know-how aside, analysts are generally upbeat on the firm.
That Ener1 actually has a production facility in the United States gives it an immediate advantage, said Michael Lew, an analyst with Think Equity. Car batteries are heavy and expensive to ship, and it can take up to two years to build a new facility in the United States.
Lewis also noted that while Ener1 competitors may have experience making other types of batteries, the lithium ion field for cars is still a new game for everyone.
"They have as good a chance as anyone else," said Lew, but he also noted the company's ability to perfect large-scale manufacturing as its major challenge.
On the technology side, Ener1 is thought to have some of the best ideas going.
The chemicals it uses in coating the lithium strips that make up the battery are said to be top-notch. Unlike some of its competitors, the chemicals allow the company to produce different types of batteries for different types of vehicles. That's a competitive advantage, said Banc of America Securities-Merrill Lynch alternative energy analyst Steven Milunovich, who has a buy rating on the stock.
And the design of the battery itself, which allows several cells to be stacked on one another reducing the chance it will catch on fire, is also praised.
The company's technical prowess is how Charles Gassenheimer, the company's chief executive, responds to questions about whether it can compete in this global battery race.
"We are the first people to provide this breakthrough in terms of the flat, stacked design and work with revolutionary new chemistries," Gassenheimer recently told Fortune, CNNMoney's sister publication. "We may have as much as a two year advantage over our competition."
Another good sign for the firm: After doing much research into the company's business plan, the government is still considering giving it the $480 million loan.
"If they get the money, the government thinks it has a fighting chance," said Milunovich.
Ener1 may be the only U.S. company making batteries in America now, but they probably won't be for long. The privately held A123 Systems, which already makes batteries in Asia, may have a plant stateside in the next few years.
And smaller firms like Maxwell (MXWL), Valence (VLNC) or the scores of other entrepreneurs aspiring to make a cheap, light, fast-charging, long-lasting car batteries will likely enter the fray with Ener1.
It remains to be seen though, if any of them can stand up to the competition from Asian giants.

Features

These Fortune 100 employers have at least 350 openings each. What are they looking for in a new hire? More

It would be the world's second-biggest economy. See how big companies' sales stack up against GDP over the past decade. More