Stocks sustain gains after Fed
Wall Street advances after central bank holds rates near zero and says economic decline is leveling out.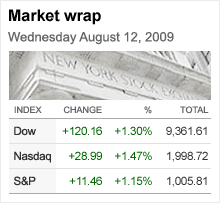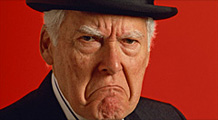 You've got a job. Good. Now keep yourself off a potential-layoff list by avoiding bad office behavior. 15 horror stories straight from the trenches.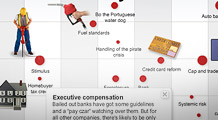 200 days in, the President is going for broke. Click for analysis of where he's succeeding - and where he's not.
NEW YORK (CNNMoney.com) -- Stocks sustained gains Wednesday after the Federal Reserve held interest rates near historic lows and signaled the economy has finally started to stabilize.
The Dow Jones industrial average (INDU) added 120 points, or 1.3%, giving up bigger gains. The S&P 500 (SPX) index rose 11 points, or 1.1%. The Nasdaq composite (COMP) advanced 29 points, or 1.5%.
Wall Street rallied leading up to the Fed announcement as signs of improvement in the housing market pushed investors back into stocks following a two-day retreat.
The market seesawed a bit after the announcement, with the Dow, Nasdaq and S&P 500 pushing toward fresh 2009 highs, before trimming those gains by the close.
"The Fed reinforced what investors already knew, that the economy has gotten a little better," said James Barnes, fixed income portfolio manager at National Penn Investors Trust.
"But until we see more news that either reinforces the belief that the recovery is here or says we've gone too fast too soon, you're not going to see a bigger reaction."
Thursday preview: July retail sales are due in the morning. The Commerce Department report is expected to show modest growth. Sales likely rose 0.7% after rising 0.6% in June, according to economists surveyed by Briefing.com. Sales excluding volatile autos are expected to have risen 0.1% after rising 0.3% in June.
Wal-Mart Stores (WMT, Fortune 500) reports its results before the start of trade. The Dow component is expected to have earned 86 cents per share, as it did a year ago.
Thursday also brings the weekly jobless claims report from the Labor Department and readings on July import and export prices and June business inventories
Focus on the Fed: As expected, the central bank on Wednesday held the fed funds rate, a key short-term bank lending rate, at historic lows near 0%. The Fed first cut the rate to that level last December to help the struggling economy, which had already been in a recession for a year.
In the closely watched policy statement, the Fed said it will maintain exceptionally low interest rates for an extended period of time. The bankers said that although economic activity is likely to remain weak, activity is "leveling out" and financial market conditions appear to have improved.
The statement has a slightly more positive tone than in recent months, but it continued to indicate caution, said Stephen Stanley, chief economist at RBS Securities.
"They're saying that things are improving, but mostly in line with their forecasts," Stanley said. "It is a little more optimistic in tone, in tune with the recent data."
Recharging the advance: The stock advance was broad-based, with financial, technology and other shares rebounding after sliding Monday and Tuesday. Stocks had fallen in anticipation of the Fed meeting, with investors cashing out after several up weeks.
"Mostly I think you're seeing a continuation of what we've seen this summer, where when you have a selloff for a few days, they use it as a way to get back in," said Ron Kiddoo, chief investment officer at Cozad Asset Management.
With the exception of a pullback in late June, the S&P 500 has basically been on the rise for five months. Since bottoming in early March, the index has gained 50% through the end of last week.
Housing: The median home price plunged a record 15.6% during the second quarter, versus a year earlier, according to a report from the National Association of Realtors.
But on a more upbeat note, the median home price rose 4% in the quarter versus the first quarter of 2009, rising to $174,100 from $167,300.
In another positive sign, homebuilder Toll Brothers (TOL) said the number of signed contracts rose in its just-completed quarter for the first time in four years, although the dollar value of the contracts fell. The luxury homebuilder also said the percentage of cancelled contracts dropped versus a year ago. Shares gained 14.4% Wednesday.
Economy: A majority of economists think the recession has now ended, according to a Wall Street Journal survey conducted over the last few days. With manufacturing starting to pick up and the housing market closer to stabilizing, GDP is expected to grow modestly in the third quarter, after falling for four straight quarters.
The trade gap widened to $27 billion in June, the Commerce Department reported. The deficit stood at $26 billion in May, a 10-year low. The deficit was expected to widen to $28.7 billion in June, according to a consensus of economists surveyed by Briefing.com.
Company news: After the close Tuesday, Applied Materials (AMAT, Fortune 500) reported a fiscal third-quarter loss versus a profit a year ago on weaker revenue. However, the results were better than what analysts were expecting.
The chipmaker also said it would at least break even in the fiscal fourth quarter and potentially post a profit of up to 4 cents per share. Analysts expect a loss of 5 cents per share. AMAT shares gained 3.3% Wednesday.
Among stock movers, gains were broad-based, with 28 of 30 Dow components rising. The Dow's leaders were Exxon Mobil (XOM, Fortune 500), Chevron (CVX, Fortune 500), Boeing (BA, Fortune 500), IBM (IBM, Fortune 500), JPMorgan Chase (JPM, Fortune 500), Travelers Companies (TRV, Fortune 500), Caterpillar (CAT, Fortune 500) and United Technologies (UTX, Fortune 500).
Market breadth was positive. On the New York Stock Exchange, winners topped losers seven to three on volume of 1.23 billion shares. On the Nasdaq, advancers topped decliners by nine to four on volume of 2.19 billion shares.
Bonds: Treasury prices tumbled, raising the corresponding yields as investors reacted to a mixed government debt sale. Treasury's auction of $23 billin in 10-year notes showed demand roughly in line with recent levels, but not as strong as that seen last month.
The selloff pushed the yield on the benchmark 10-year note to 3.71% from 3.67% late Tuesday. Treasury prices and yields move in opposite directions.
The government is auctioning $75 billion in debt this week as part of its efforts to reduce the deficit and fuel its recovery efforts.
Treasury's Tuesday auction of $37 billion in three-year notes saw stronger demand than other recent auctions. On Friday, Treasury sells $15 billion in 30-year bonds.
Oil and gold: U.S. light crude oil for September delivery rose 71 cents to settle at $70.16 a barrel on the New York Mercantile Exchange.
COMEX gold for December delivery rose $4.90 to settle at $952.50 an ounce.
Other markets: In global trading, European markets rallied and Asian markets tumbled.
In currency trading, the dollar fell versus the euro and gained against the Japanese yen.

Features

These Fortune 100 employers have at least 350 openings each. What are they looking for in a new hire? More

It would be the world's second-biggest economy. See how big companies' sales stack up against GDP over the past decade. More