Stocks end the week with a pullback
Wall Street lower after a surprise slide in consumer sentiment, but investors manage to trim losses by the close.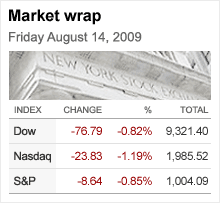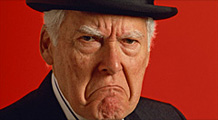 You've got a job. Good. Now keep yourself off a potential-layoff list by avoiding bad office behavior. 15 horror stories straight from the trenches.
NEW YORK (CNNMoney.com) -- Stocks slumped Friday, but managed to cut steeper losses by the close, after a weaker-than-expected consumer sentiment report raised worries about the strength of any economic recovery.
The Dow Jones industrial average (INDU) lost 77 points, or 0.8%. The S&P 500 (SPX) index fell 8 points, or 0.9%. The Nasdaq composite (COMP) lost 24 points, or 1.2%.
Stock declines were broad, but a few sectors recovered losses by the close. Some 24 of the Dow's 30 components fell, led by Boeing (BA, Fortune 500), IBM (IBM, Fortune 500), Chevron (CVX, Fortune 500), Exxon Mobil (XOM, Fortune 500), McDonald's (MCD, Fortune 500) and 3M (MMM, Fortune 500).
Stocks began the session slightly lower, as investors shrugged off reports that supported hopes for an economic recovery, including a mild reading on inflation and signs that factory production has started to pick up.
But the selloff soon picked up speed following the release of the consumer sentiment index. By the close, stocks had trimmed some of those losses.
The University of Michigan's consumer sentiment index dipped to 63.2 in August from 66 in late July. Economists surveyed by Briefing.com thought it would rise to 69.
"The report is concerning," said Joshua Shapiro, chief U.S. economist at Maria Fiorini Ramirez Inc.
He said that despite the recent stock rally and signs that the recession is winding down, consumers are continuing to take a battering.
"The report underscores the pain consumers are feeling on both their income and balance sheets," he said. "And that's overshadowing any rally in stocks."
Stocks ended the previous session at 2009 highs, but ended lower for the week after a four-week advance. A more optimistic view from the Federal Reserve trumped weaker retail sales Thursday, but investors continue to look for signs of a recovery.
Between hitting a bottom on March 9 and Thursday's close, the S&P 500 rose 50%, making stocks vulnerable to a retreat Friday.
Economy: Other economic reports Friday pointed to the end of the recession, as the Federal Reserve hinted earlier in the week. Industrial production, a measure of factory output, rose 0.5% in July after falling 0.4% in the previous month. It was the first rise in 9 months and could indicate that manufacturing is bottoming. Economists thought it would rise 0.4%.
Capacity utilization rose to 68.5% from 68.1% in June. Economists thought it would rise to 68.3%.
The Consumer Price Index (CPI), a measure of consumer inflation, was unchanged in July, as expected. CPI rose 0.7% in June. The so-called core CPI, which strips out volatile food and energy prices, rose 0.1%, as expected. Core CPI rose 0.2% in June.
Banks: Colonial BancGroup (CNB) may have found a buyer for part or all of its assets in BB&T Corp. (BBT, Fortune 500), according to reports. Late Thursday, a judge ruled in favor of Bank of America (BAC, Fortune 500) in a suit looking to bar Colonial, which is on the verge of collapse, from transferring or liquidating $1 billion in assets.
Shares of Colonial BancGroup, a Southern regional bank, slumped 12% before being halted. BB&T shares gained 9.4%. BofA shares rose 2.3%.
Retailers: Abercrombie & Fitch (ANF) reported a fiscal second-quarter loss versus a year-ago profit due to weak sales, higher costs and more markdowns. The loss was steeper than expected. The teen clothing retailer also reported weaker revenue that topped estimates. Shares gained 3.5% Friday.
J.C. Penney (JCP, Fortune 500) reported a smaller-than-expected quarterly loss Friday, but also issued a current-year forecast that is lower than what many analysts were expecting. Shares fell 6.1%.
Market breadth was negative. On the New York Stock Exchange, losers beat winners by seven to three on volume of 1.09 billion shares. On the Nasdaq, decliners topped advancers three to one on volume of 1.96 billion shares.
Bonds: Treasury prices rallied, lowering the yield on the benchmark 10-year note to 3.56% from 3.60% Thursday. Treasury prices and yields move in opposite directions.
The government auctioned $75 billion in debt this week as part of its efforts to reduce the deficit and fuel its recovery efforts.
Oil and gold: U.S. light crude oil for September delivery fell $3.01 to settle at $67.51 a barrel on the New York Mercantile Exchange.
COMEX gold for December delivery fell $7.80 to settle at $948.70 an ounce.
Other markets: In global trading, European markets ended lower and Asian markets mostly ended higher.
In currency trading, the dollar gained versus the euro and rose against the Japanese yen.

Features

These Fortune 100 employers have at least 350 openings each. What are they looking for in a new hire? More

It would be the world's second-biggest economy. See how big companies' sales stack up against GDP over the past decade. More