Stocks in pre-holiday rally
Wall Street advances after the August labor market report shows a slower pace of job cuts and a rising unemployment rate.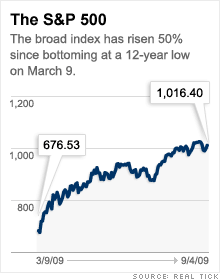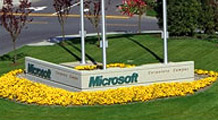 After a bleak 2008, equities are looking up. But whatever the market, our trademark long-term portfolio can help you build a nest egg for a secure future.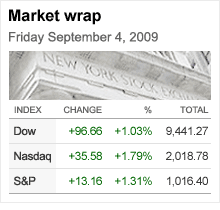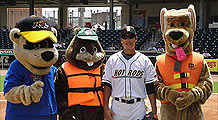 What do Bobber the Water Safety Dog, a reach-in freezer, sliced ham and 115 office chairs have in common? They were all funded with Recovery Act dollars.
NEW YORK (CNNMoney.com) -- Stocks rallied Friday in a thinly traded session ahead of the Labor Day weekend, as investors focused on the positives in a mixed report on the labor market.
The Dow Jones industrial average (INDU) gained 96 points, or 1%. The S&P 500 (SPX) index added 13 points, or 1.3%. The Nasdaq composite (COMP) advanced 35 points, or 1.8%.
However, all three indexes ended the week lower.
Employers cut less jobs in August than they have in months, but the unemployment rate still rose to a fresh 26-year high.
"It's a good report that generally suggests more healing in the economy," said Jeff Kleintop, chief market strategist, LPL Financial. "But the market has been saturated with good news and is starting to show fatigue after the S&P 500 rallied 50%."
A roughly six-month rally propelled the S&P 500 more than 50% through last week, leaving the broad index at its highest point since just after the collapse of Lehman Brothers last September.
But stocks tumbled in the first three sessions of this week as investors worried about the health of the economy. There was a late-session advance Thursday as some of the bank and tech shares that slumped earlier in the week bounced back.
That carried over to Friday's session.
Trading volume was light ahead of the three-day Labor Day weekend. On the New York Stock Exchange, advancers beat decliners four to one on volume of 1.02 billion shares. On the Nasdaq, winners topped losers almost three to one on volume of 1.74 billion shares.
Economy: Employers cut 216,000 jobs from their payrolls in August, the Labor Department reported, after paring a revised 276,000 jobs in July. The month brought the smallest number of job cuts since August 2008. Economists surveyed by Briefing.com expected 230,000 job cuts
The unemployment rate, generated by a separate survey, rose to 9.7% from 9.4%, a 26-year high. Economists expected unemployment to rise to 9.5%.
Unemployment is expected to hit 10% by the end of the year or early 2010, even as the economy is starting to recover. Although a jobs recovery typically lags a broader recovery, the rise in unemployment remains the market's biggest economic worry right now.
Without a healthier labor market and a burst in consumer spending, inventory rebuilding and fiscal and monetary stimulus are the main factors fueling a recovery.
"In the last few weeks, we've gone from pricing in a recovery to worrying about a double-dip recession in 2010 when all the stimulus money gives out," said Kleintop.
Stock movers: Select financial shares rose, including Bank of America (BAC, Fortune 500), Citigroup (C, Fortune 500), US Bancorp (USB, Fortune 500) and Regions Financial (RF, Fortune 500). The KBW Bank (BKX) index added 1.4%.
A number of truckers, airlines and railroad shares rose, now that oil prices have come down off 10-month highs set last week. Fuel prices are directly linked to the profitability of transportation companies. The Dow Jones Transportation (DJT) average gained 2%.
Apple (AAPL, Fortune 500) shares rose ahead of its media event next week where it is expected to introduce iPod Nano and Touch models that include digital cameras. Investors are also wondering if CEO Steve Jobs, now back at work after a six-month medical leave, will make an appearance. Apple shares have nearly doubled this year.
Other big tech gainers included Microsoft, IBM, Cisco Systems,
Oil and gold: U.S. light crude oil for October delivery rose 6 cents to settle at $68.02 a barrel on the New York Mercantile Exchange. Oil prices have been slipping since hitting a 10-month high just below $75 a barrel late last month.
COMEX gold for December delivery fell $1 to settle at $996.70 an ounce, after inching closer to the psychologically significant $1,000 level over the last few sessions.
World markets: Global markets continued to recover, with major European markets ending higher. Most Asian markets ended higher, with the exception of Japan's Nikkei, which slipped modestly.
Bonds and currency: Treasury prices slipped, raising the yield on the benchmark 10-year note to 3.44% from 3.34% late Thursday. Treasury prices and yields move in opposite directions.
In currency trading, the dollar fell versus the euro and the Japanese yen.
How does your portfolio look nearly one year after the collapse of Lehman Brothers? What investment choices hurt you or helped you the most? What strategy changes are you making for the future? Tell us your story. E-mail realstories@cnnmoney.com and your thoughts could be part of an upcoming story. For the CNNMoney.com Comment Policy, click here.

Features

These Fortune 100 employers have at least 350 openings each. What are they looking for in a new hire? More

It would be the world's second-biggest economy. See how big companies' sales stack up against GDP over the past decade. More