Stocks slide for second week
Wall Street ends with modest losses after a choppy session in which a weaker-than-expected jobs report raises worries about the recovery.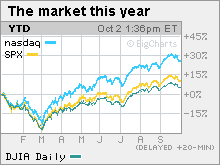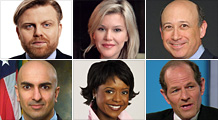 Would panic prevail? That was the question gripping the world in the days surrounding the fall of Lehman Brothers on Sept. 15, 2008. One year after that terrifying Monday, the people who struggled to cope with the financial crisis share what they were thinking as chaos broke out.
NEW YORK (CNNMoney.com) -- Stocks meandered Friday, at the end of a second straight week of losses, as investors worried that a worse-than-expected jobs report was further evidence that the rally has gotten ahead of the recovery.
The Dow Jones industrial average (INDU), the S&P 500 (SPX) index and the Nasdaq composite (COMP) all lost a few points.
"The [jobs] report was a disappointment, but a recovery is not going to go in a straight line," said John Wilson, chief technical strategist at Morgan Keegan.
Since the rally highs were hit last week, stocks have lost about 5%. Wilson said stocks may need to ease another 5% lower over the next few weeks, but that a 10% pullback would be sufficient to bring buyers back in to push the market higher.
Stocks got hammered Thursday after weaker-than-expected readings on manufacturing and jobless claims sparked worries about the pace of the economic recovery. The Dow closed down 204 points.
Stocks are also vulnerable to a bit of selling after a strong July through September period in which the Dow and S&P 500 both jumped 15%, their biggest quarterly gains in more than a decade. The Nasdaq gained 15.7%, its best quarterly performance since 2003.
The advance was part of a bigger run up that has propelled the leading indexes for roughly 7 months straight. The advance has been driven by slowly improving economic news and tremendous amounts of fiscal and monetary stimulus.
But lately, a number of the reports have been missing expectations, including readings on jobs, manufacturing and consumer confidence earlier this week.
Since bottoming at a 12-year low March 9, the S&P 500 has gained 51.2%, and the Dow has gained 45% as of Friday's close. After hitting a six-year low, the Nasdaq has gained nearly 61%.
Economy: Employers cut 263,000 jobs from their payrolls in September after cutting a revised 201,000 in August, the Labor Department reported Friday morning. Economists were expecting 175,000 jobs cuts, on average, according to Briefing.com.
The unemployment rate, generated by a separate survey, rose to 9.8%, a 26-year high. That was in line with economists' forecasts and up from the 9.7% rate in August. Most economists expect the national unemployment rate to hit 10% by year end, although in a number of states it is much higher.
A separate government report showed that factory orders plunged in August versus forecasts for a rise. The Commerce Department said factory orders fell 0.8% versus forecasts for a flat reading. Factory orders rose 1.4% in the previous month.
Company news: Troubled lender CIT (CIT, Fortune 500) launched a debt-exchange plan as part of its efforts to restructure and avoid bankruptcy. But the company said if the plan is not successful, it will likely file for Chapter 11 protection.
Apple (AAPL, Fortune 500) shares gained after both Morgan Stanley and UBS issued bullish notes on the company's forecast.
Market breadth was positive. On the New York Stock Exchange, losers beat winners two to one on volume of 1.4 billion shares. On the Nasdaq, decliners topped advancers two to one on volume of 2.47 million shares.
World markets: Global markets tumbled. In Europe, London's FTSE 100 lost 1.2%, France's CAC 40 lost 1.9% and Germany's DAX lost 1.5%. Asian markets declined as well, with the Japanese Nikkei losing 2.5%.
Currency and commodities: The dollar tumbled versus the euro and the yen, resuming its recent plunge against a basket of currencies.
U.S. light crude oil for October delivery fell 87 cents to settle at $69.95 a barrel on the New York Mercantile Exchange.
COMEX gold for December delivery rose $3.60 to settle at $1,004.30 an ounce. Gold closed at a record high of $1,020.20 two weeks ago.
Bonds: Treasury prices tiptoed higher, lowering the yield on the benchmark 10-year note to 3.21% from 3.18% late Thursday. Treasury prices and yields move in opposite directions.

Features

These Fortune 100 employers have at least 350 openings each. What are they looking for in a new hire? More

It would be the world's second-biggest economy. See how big companies' sales stack up against GDP over the past decade. More