Dow's best day in 3 months
A better-than-expected jump in third-quarter economic growth fired up the bulls, putting the blue-chip indicator and the S&P 500 at 3-month highs.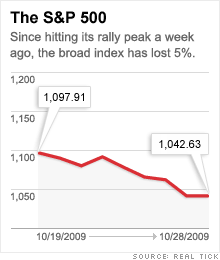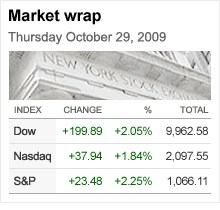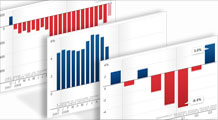 The economy has grown for five straight quarters, but there are signs that the recovery is still fragile.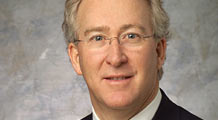 The government is slashing pay for top execs at firms bailed out by taxpayers, but plenty of people are still raking in the dough. Here are last year's top earners.
NEW YORK (CNNMoney.com) -- Stocks rallied Thursday in a broad-based advance as a strong report on economic growth in the third quarter reassured investors that the recovery is on track.
The Dow Jones industrial average (INDU) gained just shy of 200 points, or 2%, closing at 9962.58. It was the Dow's biggest one-day percentage gain since July 15, and came exactly 80 years after Wall Street's darkest day, the Crash of 1929.
The S&P 500 (SPX) index added 23 points, or 2.3%, managing its biggest one-day percentage gain since July 23.
The Nasdaq composite (COMP) climbed 38 points, or 1.8%, its biggest one-day percentage gain in about a month.
"The market sold off Wednesday in expectation of a lower number and today it got a positive surprise," said Karl Mills, president and chief investment officer at Jurika Mills & Keifer.
"This shows the economy is continuing to recover and heal," he said. "It's just not clear what that recovery is going to look like."
Gains were broad based, with 29 of 30 Dow issues rising, led by Boeing (BA, Fortune 500), Chevron (CVX, Fortune 500), Caterpillar (CAT, Fortune 500), Hewlett-Packard (HPQ, Fortune 500), IBM (IBM, Fortune 500) JPMorgan Chase (JPM, Fortune 500), 3M (MMM, Fortune 500), Travelers (TRV, Fortune 500), Wal-Mart Stores (WMT, Fortune 500) and Procter & Gamble (PG, Fortune 500), which reported a better-than-expected profit.
The rally in the financial sector boosted the KBW Bank (BKX) index by 4%. Commodity shares spiked, with the Morgan Stanley Commodity (CSX, Fortune 500) index up 5%.
The Dow and S&P ended three of the last four sessions lower, and the Nasdaq declined in all four, as investors turned cautious after a seven-month stock rally. Early enthusiasm about better-than-expected third-quarter profit gave way to questions about the strength of the economy, causing investors to pull back.
The S&P 500 lost 5% between the rally peak on Oct. 19 and Wednesday's close. Both the better-than-expected GDP report and the preceding sharp, short selloff gave stocks a boost Thursday. Since bottoming at a 12-year low on March 9, the S&P 500 has gained 57.6% as of Thursday's close.
Reports on personal income and spending, consumer sentiment and manufacturing are all due Friday morning.
Dow component Chevron (CVX, Fortune 500), Duke Energy (DUK, Fortune 500), Alcatel-Lucent (ALA) and Sony (SNE) are among the corporations reporting quarterly results in the morning.
Economy: GDP grew at a 3.5% annualized rate in the third quarter, the government reported Thursday. That was better than the 3.2% rate economists surveyed by Briefing.com had predicted and also marked the first quarter of growth in a year. GDP fell at a 0.7% rate in the second quarter.
Some organic factors fueled the advance, including a slowdown in the pace of businesses reducing inventories. But other short-term factors played a role too, including the impact of government stimulus programs such as Cash for Clunkers. Yet some economists are concerned that when those short-term factors are removed, any recovery could be pretty flimsy.
"It was a little better than expected, but you have to wonder how much of the growth was pulled from another quarter, with the stimulus driving so much of it," said Drew Kanaly, chairman and CEO at Kanaly Trust.
"As you look to quarters down the road, you have to wonder how sustainable this level of GDP is," he said. "Can the government take away all the stimulus and make that handoff to the private sector?"
A separate government report showed that the number of Americans filing new claims for unemployment fell to 530,000 last week from 531,000 the previous week. Economists thought it would drop to 525,000.
Continuing claims, a measure of Americans receiving benefits for a week or more, fell to 5,797,000 from 5,945,000 the week before. Economists thought claims would fall to 5,905,000.
Results: Exxon Mobil (XOM, Fortune 500) said quarterly earnings plunged 68% in the quarter due to lower oil and natural gas prices. The No. 1 U.S. oil company reported weaker quarterly revenue as well. Both earnings and revenue missed estimates. Shares of the Dow component ended little changed.
Dow component Procter & Gamble (PG, Fortune 500) reported weaker quarterly earnings and revenue that topped estimates. The consumer products maker also boosted the low end of its fiscal 2010 earnings forecast. Shares gained 4%.
With 302 companies, or 60% of the S&P 500 having already reported results, profits are on track to have fallen 17.9% from a year ago, according to the latest results from Thomson Reuters.
Currency and commodities: The dollar fell versus the euro, resuming its slide after a few up days and moving closer to a 14-month low hit last week. The greenback gained versus the yen.
U.S. light crude oil for December delivery rallied $2.44 to settle at $79.87 a barrel on the New York Mercantile Exchange, a gain of 3%.
COMEX gold for December delivery rallied $16.60 to settle at $1,047.10 an ounce. Gold has surpassed records repeatedly this month due to the weak dollar and longer-term worries about inflation.
World markets: Global markets were mixed. In Europe, London's FTSE 100, France's CAC 40 and Germany's DAX all gained over 1%. Asian markets ended lower, with Japan's Nikkei losing 1.8%.
Bonds: Treasury prices tumbled, raising the yield on the 10-year note to 3.49% from 3.41% Wednesday. Treasury prices and yields move in opposite directions.
Market breadth was positive. On the New York Stock Exchange, winners beat losers four to one on volume of 1.45 billion shares. On the Nasdaq, advancers topped decliners nine to four on 2.33 billion shares.

Features

These Fortune 100 employers have at least 350 openings each. What are they looking for in a new hire? More

It would be the world's second-biggest economy. See how big companies' sales stack up against GDP over the past decade. More