Stocks gain as dollar falls
Wall Street rises at the end of a volatile session as a weak greenback boosts commodity stocks. Surprise rise in wholesale inventories and a 3M upgrade help.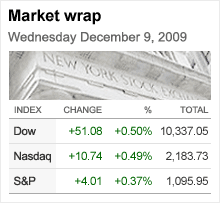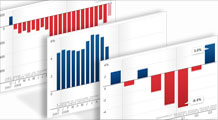 The economy has grown for five straight quarters, but there are signs that the recovery is still fragile.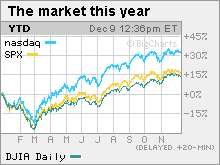 NEW YORK (CNNMoney.com) -- Stocks gained Wednesday, at the end of a choppy session, after the falling dollar boosted commodity stocks and a rise in wholesale inventories and an upgrade of 3M provided some optimism.
The Dow Jones industrial average (INDU) rose 51 points, or 0.5%. The S&P 500 index (SPX) added 4 points, or 0.4%. The Nasdaq composite (COMP) gained 11 points, or 0.5%.
Wall Street retreated Tuesday as global debt woes weighed and as a stronger dollar sapped commodity prices and select stocks. The debt woes remained in place Wednesday, while the dollar zigzagged throughout the session, turning higher near the close and giving stocks some support.
The weak dollar has helped lift stocks over the last 9 months, giving a boost to dollar-traded commodity shares and the stocks of companies that do a lot of business overseas and benefit from a weaker greenback. But over the last few weeks, the dollar has seesawed.
Stocks have been rangebound over the last two weeks, with investors hunkering down at the end of a tumultuous year. That trend is likely to continue.
"We're probably going to coast into the end of the year," said Dan Genter, president and CEO at RNC Genter Capital Management."I just don't think you're going to see anything to push the market to new highs or to cause people to want to get out."
He said that while many investors have seen big run-ups on their money since the March lows -- the S&P 500 is up 62% as of Wednesday's close -- plenty of investors have missed the bulk of the run.
"With over $3 trillion sitting in cash, individuals and institutions are going to need to jump in," Genter said. "You're still going to see the trend of any dips being used as an opportunity for investors to deploy more cash."
TARP: The federal bailout plan will be extended until Oct. 3, 2010, Treasury Secretary Timothy Geithner said Wednesday in a letter to Congress.
However, the Troubled Asset Relief Program, originally enacted in October 2008 at the height of the credit crisis, will be scaled back and refocused on newer programs designed to stop foreclosures and make loans to small businesses.
Separately, the Congressional Oversight Panel said that while TARP did help stabilize the banking system, it failed to boost spending or help stop foreclosures.
On Tuesday, President Obama proposed reallocating money not used for TARP to help create jobs and provide other help to consumers. The president is reportedly meeting with the chief executives of a number of big banks next week to try to finesse more lending to consumers.
Economy: Wholesale inventories in October rose 0.3% after falling 0.8% in September. Economists surveyed by Briefing.com thought they'd decline 0.5%.
Stock movers: 3M (MMM, Fortune 500) rallied 3% and helped keep the Dow afloat after Citigroup upgraded it to "buy" from "hold," saying it's likely to outperform its peers over the next year and deliver superior financial returns.
Pfizer (PFE, Fortune 500) rose on a bullish note out of Credit Suisse. Fellow Dow pharmaceutical stock Merck (MRK, Fortune 500) gained as well.
Hewlett Packard (HPQ, Fortune 500) and IBM (IBM, Fortune 500) were the Dow's other big gainers.
Bank of America (BAC, Fortune 500) said Wednesday that it has paid back the government in full the $45 billion it accepted in bailout money. A week ago, BofA announced that it planned to pay the government back. Shares were little changed.
Market breadth was mixed. On the New York Stock Exchange, winners beat losers eight to seven on volume of 1.08 billion shares. On the Nasdaq, decliners and advancers were roughly split on volume of 1.92 billion shares.
Health care: Liberal and moderate Democrats have reached a deal on a number of provisions to replace the controversial public option portion of the health care bill. The agreement is considered to be a significant one as the Senate works to hammer out a bill that might garner broad support.
World markets: Overseas markets slid for a second day on worries about the global economy and debt. Britain's FTSE 100 lost 0.4%, the German DAX fell 0.7% and France's CAC 40 slid 1%. Asian markets ended lower.
Commodities: COMEX gold for February delivery fell $22.50 to settle at $1,120.90 an ounce. Gold closed at an all-time high of $1,218.30 an ounce last week.
U.S. light crude oil for January delivery fell $1.95 to settle at $70.67 a barrel on the New York Mercantile Exchange.
Bonds: Treasury prices fell, raising the yield on the 10-year note to 3.42% from 3.38% late Tuesday. Treasury prices and yields move in opposite directions.

Features

These Fortune 100 employers have at least 350 openings each. What are they looking for in a new hire? More

It would be the world's second-biggest economy. See how big companies' sales stack up against GDP over the past decade. More