Stocks pare some losses but end lower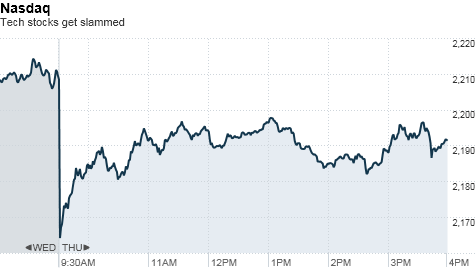 NEW YORK (CNNMoney.com) -- Stocks closed modestly lower Thursday but recouped earlier losses, as investors digested an unexpected rise in jobless claims and Cisco Systems' cautious outlook.
The Dow Jones industrial average (INDU) lost 59 points, or 0.6%, to end at 10,319.95.
The S&P 500 (SPX) fell 6 points, or 0.5%, to end at 1,083.61, and the Nasdaq (COMP) dropped 18 points, or 0.8%, to settle at 2,190.27.
Earlier in the session, the blue-chip Dow index sank as much as 110 points. But as the day wore on, all three indexes rebounded somewhat off their lows.
"We've taken a pretty big drop this week," said Steven Goldman, market strategist at Weeden & Co. "The market has gotte really oversold, so bargain hunters are coming in."
But stocks had still struggled to rebound after earlier downbeat data.
"Cisco's earnings were not good, and coupled with initial jobless claims, we have more signs that the recession is still upon us," said Joseph Saluzzi, co-head of equity trading at Themis Trading.
Also continuing to drag down the market was the Federal Reserve's statement from Tuesday, Saluzzi said. The central bank gave its most bearish outlook in more than a year, saying the economic recovery is weakening.
"People are paying a lot of attention to what the Fed says, so a negative outlook can really dampen the market for a few days," Saluzzi added. "Two doses of bad news this morning just exacerbates the concern."
Stocks tumbled Wednesday, with the three major indexes losing more than 2.5%, after a report showed the U.S. trade gap widened and foreign data cast doubt on overseas demand for American goods.
Economy: Initial jobless claims jumped unexpectedly to 484,000 last week. That's the highest number in five months.
A separate report showed that import prices jumped 0.2% in July from the prior month, and were up 4.9% from a year earlier. The advance was led by higher fuel prices.
Export prices fell 0.2% during the month, but were up 3.9% from 2009.
Companies: Cisco Systems (CSCO, Fortune 500) posted a 79% jump in quarterly profit late Wednesday, but the tech bellwether's revenue missed Wall Street's expectations. The company's sales outlook was also a slight disappointment.
Cisco CEO John Chambers emphasized that while he is confident in his company's ability to continue growing, concerns such as job creation and GDP growth still lurk, and the economy has been sending "mixed signals" to Cisco's customers.
Shares of Cisco ended down almost 10%, dragging down the tech sector.
General Motors posted its second straight profitable quarter Thursday, with earnings of $1.3 billion after the payment of dividends on preferred shares held by the U.S. Treasury. That was a stark turnaround from the $12.9 billion it lost in the year-earlier period, when the company went into bankruptcy.
The results help put GM in position to move ahead with the sale of shares to the public, that is needed to repay taxpayer assistance it received last year.
GM also said chief executive Ed Whitacre will leave his post Sept. 1, to be succeeded by another auto industry outsider, former Nextel Communications CEO Dan Akerson. He will be GM's fourth CEO in just under 18 months.
Federal regulators announced BP (BP) will pay a $50 million penalty in connection with the 2005 explosion at its Texas City refinery that killed 15 workers and injured 170 others. BP shares ended 1.1% lower at $38.38.
World markets: Markets in Asia couldn't shake economic worries and extended losses. Japan's benchmark Nikkei index fell 0.9%. The Shanghai Composite tumbled 1.2% and the Hang Seng in Hong Kong ended the day down 0.9%.
European shares recovered from deeper losses earlier in the session to end mixed. Germany's DAX closed down about 0.3%, while the CAC 40 in France fell 0.2%. Britain's FTSE 100 turned up to end 0.4% higher.
Currencies and commodities: The dollar gained against the euro, the U.K. pound, and the Japanese yen.
Oil futures for September delivery fell $2.28 to settle at $75.74 a barrel.
Gold futures for December delivery rose $17.50 to settle at $1,216.70 an ounce.
Bonds: Prices for Treasurys were mixed, with the yield on the 10-year note rising to 2.73% from 2.72% late Wednesday. Bond prices and yields move in opposite directions. The U.S. sold $16 billion worth of 30-year bonds Thursday.