Stocks shake off recovery jitters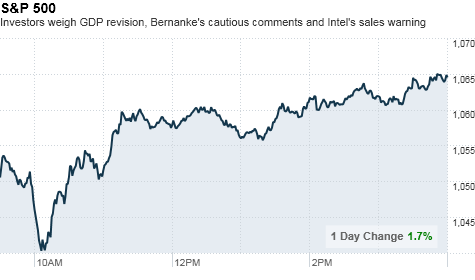 NEW YORK (CNNMoney.com) -- The economy is slowing, the Fed is cautious about the recovery and the world's biggest chipmaker is lowering its sales forecast. But stocks rallied more than 1% Friday.
The Dow Jones industrial average (INDU) surged 165 points, or 1.7%, the S&P 500 (SPX) jumped 17 points, or 1.7%, and the Nasdaq (COMP) composite rose 35 points, or 1.7%. While finishing in positive territory for the day, the major indexes ended in the red for the week.
"The market is starving for something decent to look at," said Rob Russell, president of financial planning firm Russell & Company.
Second-quarter GDP, the broadest measure of economic activity, was revised sharply lower, but was less drastic than forecast. Meanwhile, Fed Chairman Ben Bernanke said the recovery is sputtering, but stressed that the Fed has the tools to ensure continued growth.
"None of this is good information, [but] the GDP revision was better than what people were looking for, and the fact that Bernanke outlined some options about what the Fed could still do and is willing to do has helped an uptrend," said Russell.
Stocks tumbled briefly in trading earlier after chipmaker Intel said its third-quarter revenue would come in lower than it previously forecast, unnerving already frazzled investors.
On Thursday, the major indexes were unable to hold early gains despite a better-than-expected report on initial jobless claims. Trading has been choppy this week as investors remain wary about the economic outlook, following two disappointing reports on the housing market.
Economy: Second-quarter GDP was revised to an annual growth rate of 1.6%, according to new government estimates.
The figure dropped significantly from the initial reading of 2.4%, but topped expectations of a slide to 1.4%.
At an annual meeting of central bankers in Jackson Hole, Wyo., Fed Chairman Ben Bernanke said the economic recovery is "less vigorous" than expected but said the Federal Reserve has the tools needed to help the nation maintain growth.
"The disappointment with Bernanke's speech is that it seems no action is imminent," said Mark Luschini, chief investment strategist at Janney Montgomery Scott. "The Fed is saying we have the tools on hand, but we're not pulling the gun out of the holster today, which investors take to mean that we're going to stay in this economic slowdown."
Separately, the Reuters/University of Michigan index of consumer sentiment for August was unchanged from a preliminary reading earlier this month and edged up to 68.9 from 67.8 in July. The figure bounced off the eight-month low hit in July but just missed economists' forecasts.
Companies: Intel (INTC, Fortune 500) issued a revenue warning, saying that its third-quarter sales will fall below the company's previous expectations. Shares, which were halted for 15 minutes Friday, gained more than 1% after they resumed trading.
"Intel coming out revising its revenue to the lower end of its range only further exacerbates the fears that the economy's growth is stalling," said Luschini.
The bidding war for 3PAR (PAR) continued Friday, as Dell (DELL, Fortune 500) increased its offer for the storage company to match HP's (HPQ, Fortune 500) bid made Thursday, at $27 per share. 3PAR accepted Dell's offer, but HP upped its bid again early Friday, topping Dell's latest offer.
Shares of 3PAR jumped 25%, while Dell's stock rose 1%. Shares of HP edged down less than 1%.
World markets: European shares rallied. The CAC 40 in France and Britain's FTSE 100 ended 0.9% higher, and the DAX in Germany gained 0.7%.
Asian markets ended mixed. Japan's benchmark Nikkei index added 1.7%, and the Shanghai Composite rose 0.3%. The Hang Seng in Hong Kong fell 0.3%.
Currencies and commodities: The dollar fell against the euro but rose versus the British pound and Japanese yen.
Oil futures for October delivery gained $1.81 to settle at $75.17 a barrel. Gold for December delivery gained 20 cents, settling at $1,237.90 an ounce.
Bonds: The yield on the 10-year Treasury note rose to 2.6% from 2.5% late Thursday.
Are you under the age of 35 and pulling your money out of the stock market? What's your investing strategy amid the current economic uncertainty? Are you still willing to take on more risk? E-mail your story to Hibah.Yousuf@turner.com and you could be part of an upcoming feature. For the CNNMoney.com Comment Policy, click here.