September surprise: Stocks soar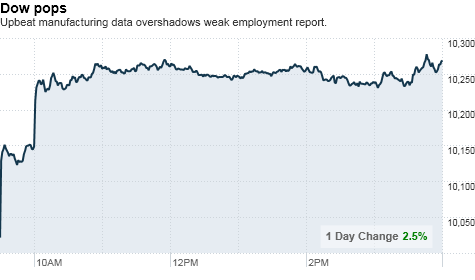 NEW YORK (CNNMoney.com) -- The bulls are back on Wall Street. After a bearish August, stocks roared into September with a major rally Wednesday, as investors cheered signs of strength in the manufacturing sector.
The Dow Jones industrial average (INDU) gained 256 points, or 2.2%.The S&P 500 (SPX) soared 31 points, or 2.9%. The Nasdaq (COMP) composite rallied 63 points, or 3%.
Stocks rallied right out of the gate as investors welcomed a rebound in Chinese manufacturing and robust economic growth in Australia. The advance kicked into high gear following an unexpectedly strong report on U.S. manufacturing activity.
The manufacturing data boosted industrial names and companies in the materials sector. Caterpillar (CAT, Fortune 500), United Technologies (UTX, Fortune 500), Boeing (BA, Fortune 500) all gained between 2% and 4%. Energy producers Exxon (XOM, Fortune 500) and Chevron (CVX, Fortune 500) also rose as oil prices spiked 3%.
But the rally was broad-based. Six stocks gained for every one that fell on the New York Stock Exchange. All 30 Dow components closed higher, with Bank of America (BAC, Fortune 500) gaining over 6%.
While the improvement in manufacturing allayed some concerns about the U.S. economy, traders said the market remains vulnerable given the uncertain outlook for growth this year.
Investors shrugged off a weaker-than-expected report from payroll processing firm ADP, which is widely seen as a leading indicator for Friday's jobs report from the Labor Department.
"This market is looking for something to grab on to," said Mark Luschini, chief investment strategist for Janney Montgomery Scott. "And for the moment it's manufacturing."
The focus could shift to jobs Thursday morning when the government's weekly report on initial claims for jobless benefits comes out. Investors will also take in the latest readings on factory orders and pending home sales shortly after the market opens.
"The manufacturing number is nice to hang your hat on, but the state of the consumer is still paramount for what's happening in the economy, " said Luschini.
The major gauges ended Tuesday's session essentially unchanged, closing out a lackluster August. Stocks typically start September strong, but often end on a weak note due to end-of-the-quarter movements by mutual funds.
Economy: The Institute for Supply Management's (ISM) said its index of manufacturing activity rose to 56.3 in August. Economists were expecting the index to edge lower. Any number above 50 indicates growth in the sector.
Meanwhile, payroll processing firm ADP reported that employers cut 10,000 jobs in August. Economists were expecting private sector employers to add 13,000 jobs during the month, after adding 37,000 in July.
A separate report showed that planned job cuts plummeted to a 10-year low in August, as employers shed 34,768, down 17% from the previous month, according to outplacement firm Challenger, Gray & Christmas.
The reports come two days before the government's monthly report on jobs and unemployment. Economists expect the government to report that the economy lost 120,000 jobs in August, after employers cut payrolls by 131,000 in July. The unemployment rate is expected to edge up to 9.6% from 9.5%.
Other reports on Wednesday included construction spending, which fell 1% in July, versus a forecasted 0.7% decline.
Companies: General Motors, Ford Motor (F, Fortune 500) and Toyota (TM) all reported disappointing sales Wednesday, kicking off what is expected to be the worst August for industrywide auto sales in 27 years.
The drop in auto sales is partly a result of tough comparisons to the Cash for Clunkers program of last summer.
Shares of Burger King Holdings (BKC) jumped 14%, following a report that the fast food chain is considering a possible sale to buyout firms. The Wall Street Journal reported that that private equity firms that have expressed interest in buying Burger King include Britain's 3G Capital Group.
Apple's (AAPL, Fortune 500) stock was up 2.8% as the company held its annual music-themed special event. CEO Steve Jobs is expected to unveil its newest iPods and advances in the iTunes music store.
Shares of BP (BP) climbed 3.7% as the oil giant said it has agreed to sell its interests in ethylene and polyethylene production in Malaysia to government-owned Petronas for $363 million in cash.
World markets: European shares closed sharply higher. The FTSE 100 in Britain jumped 2.7%, the CAC 40 in France added 3.8% and the DAX in Germany gained 2.7%.
In Asia, Japan's benchmark Nikkei index gained nearly 1.2%, rebounding after hitting a 16-month low on Tuesday, and the Hang Seng in Hong Kong rose 0.4%. The Shanghai Composite fell 0.6%, despite a report that showed China's manufacturing sector bounced back in August after several months of slowing.
Currencies and commodities: The dollar fell against the euro and the British pound, but rose versus the Japanese yen.
Currency trading volume around the world has hit $4 trillion a day, a 20% jump compared to 2007, said the Bank of International Settlement.
Oil futures for October delivery rose $2.08 to $74.03 a barrel. Gold for December delivery fell $2.20 to $1,248.10 an ounce.
Bonds: The yield on the 10-year Treasury note rose to 2.58% from 2.48% late Tuesday.