Stocks eke out gains in choppy week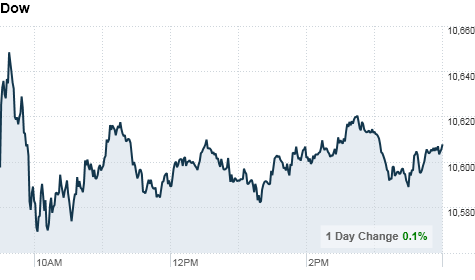 NEW YORK (CNNMoney.com) -- Stocks closed modestly higher Friday on better-than-expected earnings from Oracle and Research in Motion, but a disappointing consumer sentiment report put a cap on gains.
The Dow Jones industrial average (INDU) gained 13 points, or 0.1%, to end at 10,607.85. The S&P 500 (SPX) added 1 point, or 0.1%, to close at 1,125.59, and the tech-heavy Nasdaq (COMP) increased 12 points, or 0.5%, to end at 2,315.61.
During the rest of the week, stocks ended higher on Monday and Wednesday but closed mixed to flat for the other two days. The Dow gained 0.6% over the week, while the S&P added 0.3%, and the Nasdaq advanced 1.3%.
Upbeat tech earnings helped stocks pop at the open Friday, but an unexpectedly downbeat consumer sentiment report sent indexes in and out of negative territory. The banking and energy sectors ended mostly lower, while technology, retail and housing shares closed mixed.
Investors have been somewhat encouraged by recent signs of economic improvement. But with consumer sentiment still in the dumps and a murky outlook for job growth, stocks have been drifting without much conviction.
"We're continuing to see strong earnings, but that's not going to get us much higher with negative news on economic front," said J. Bryant Evans, portfolio manager at at Cozad Asset Management.
Friday may also have been volatile due to traders adjusting their portfolios during so-called "quadruple witching."
The term refers to the phenomenon that takes place four times a year when several derivatives contracts expire at the same time -- those tied to market index futures, market index options, stock options and stock futures.
Next week investors will be looking to a raft of data on the housing sector: reports about sales of new and existing homes, housing affordability, building permits and residential construction.
Stocks ended mixed on Thursday, with the Dow gaining and the S&P 500 ending the day flat.
Companies: After the closing bell Thursday, business software maker Oracle (ORCL, Fortune 500) reported double-digit percentage profit and sales growth in its first quarter, on the back of rising demand for business software and servers. Shares of Oracle ended 8.4% higher.
Also late Thursday, BlackBerry-maker Research in Motion issued an upbeat forecast and reported quarterly profit that beat analysts' expectations. RIM (RIMM) reported net income of $796.7 million, up sharply from $475.6 million in the year-earlier period.
Shares closed up only 0.5% Friday, after surging about 4% in premarket trade.
Economy: A report on consumer sentiment missed expectations. The University of Michigan's index was expected to show that consumers were slightly more optimistic in the early part of September, but the reading fell.
The government's consumer price index showed that prices rose 0.3% in August. Stripping out volatile food and energy prices, the core CPI was unchanged.
Later Friday, President Obama appointed Harvard law professor Elizabeth Warren as a special adviser to help create the Consumer Financial Protection Bureau, which is part of the Wall Street reform law.
Warren will advise the president and Treasury Secretary Timothy Geithner during the set-up process, but the announcement does not mean that she will run the new consumer bureau once it's up and running. However, she still remains a candidate for that job as well, sources have told CNN.
World markets: European shares closed higher Friday, though they lost steam from an earlier rally. The CAC 40 in France rose 0.4%, while Britain's FTSE 100 and Germany's DAX added 0.6%.
Asian markets closed mostly higher. Japan's benchmark Nikkei index gained 1.2%, and Hong Kong's Hang Seng index rose 1.3%. The Shanghai Composite fell 0.2%.
Currencies and commodities: The dollar edged up against the euro, but slipped versus the Japanese yen and Britain's pound.
Oil for October delivery fell 94 cents to settle at $73.63 a barrel.
Gold for December delivery settled at $1,277.50 an ounce Friday, beating the previous closing record reached on Thursday. Earlier on Friday, the precious metal also hit a new intraday trading high of $1,284.40 an ounce.
Bonds: The price on the 10-year Treasury note was slightly higher, pushing down the yield to 2.75% from 2.76% late Thursday.