Stocks stuck in a rut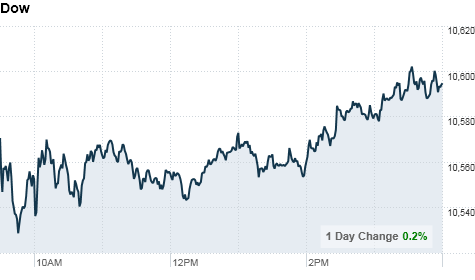 NEW YORK (CNNMoney.com) -- On paper, investors have plenty of reasons to get off the sidelines. The jobs landscape has been improving, manufacturing has expanded for 13 straight months, and other economic reports have been pointing to steady growth.
But company hiring reports have been mixed, leaving investors confused. On Thursday, FedEx said it would cut jobs, while Boeing said the industry needs to ramp up hiring. Small business hiring is similarly mixed. Stocks have drifted on this muddied picture, trading in a narrow range.
On Thursday the Dow Jones industrial average (INDU) rose 22 points, or 0.2%, to end at 10,594.83. The S&P 500 (SPX) was flat at 1,124.66 and the Nasdaq (COMP) added 2 points, or less than 0.1%, to close at 2,303.25.
Indexes had been down slightly for most of the day, but they rose modestly in the last hour of trade. Banking, energy and housing shares ended mostly lower, while tech and retail shares turned higher.
September is a historically down month for stocks -- but they started out the strong, with a rally in the first three trading days as the government's monthly jobs report showed improvement. As more data have come out this month, though, movement has slowed.
"We're entrenched in the same patterns recently," said Stephen Carl, head equity trader at Williams Capital Group. "Data aren't pushing us one way or the other."
Investors remained nervous Thursday about Japan's intervention in the currency market. On Tuesday, the nation's government said it would buy up yen in an attempt to curb deflation.
The yen purchase boosted the U.S. dollar, which helped lift stocks Wednesday. But it also kept uncertainty about the recovery at the forefront of investors' minds, sending gold prices to new record highs. The precious metal is considered a "safe" spot to park cash during times of uncertainty.
Economy: The Labor Department's weekly report on initial jobless claims showed 450,000 people filed for first-time unemployment benefits last week. Economists expected 460,000 new claims.
Initial claims have been stuck in a tight range since November, and economists say there's little reason to celebrate the recovery until weekly claims head below the 400,000 mark.
The producer price index also came out before the bell. The reading of inflation at the manufacturing level rose 0.4% in August, versus an increase of 0.2% the prior month.
RealtyTrac said the number of homeowners falling behind on their loans -- enough to attract initial notices of default -- fell 30% in August. The lower rate should translate into fewer people losing their homes, but the report also showed lenders repossessed a record 95,000 homes last month.
The Philadelphia Fed Index showed the region's manufacturing activity contracted slightly in September, due to a drop in new orders. But hiring has picked up this month.
The Senate passed a $42 billion bill aimed at helping small businesses. The Senate's version of the Small Business Jobs Act will now have to go back to the House, where it's expected to pass, before President Obama can sign it into law.
Companies: FedEx (FDX, Fortune 500) said it expected to see moderate growth in the global economy, but the shipping company will still cut 1,700 jobs.
FedEx, which is considered a bellwether for the global economy, also reported fiscal first-quarter earnings of $1.20 a share. That's a penny below analysts' estimates, but still up 57 cents from a year earlier. The company raised its outlook but that still fell short of forecasts. FedEx shares fell to end 3.8% lower.
Boeing said the airline industry will need to hire more than 460,000 pilots and almost 600,000 maintenance workers over the next 20 years, to meet growing demand in the airline industry. The company predicted the industry as a whole will need to hire more than one million workers over the same time period.
Microsoft (MSFT, Fortune 500) said its new video game "Halo: Reach" earned $200 million in sales on its launch day. The company will start selling Kinect, a full-body motion-sensing game system, on November 4.
After the bell, Oracle (ORCL, Fortune 500) reported a quarterly profit and sales that beat Wall Street's forecasts. The corporate software company said its net income in its fiscal first quarter rose to $1.4 billion, or 27 cents per share, up 20% from a year earlier. Sales rose 48% to $7.5 billion.
Oracle shares rose 3% in after-hours trade.
BlackBerry maker Research in Motion (RIMM) reported quarterly profit that beat analysts expectations and issued an upbeat forecast. The Canadian company reported net income of $796.7 million, or $1.46 per share in its fiscal second quarter. Sales increased 31% over the quarter to $4.62 billion.
The figures easily topped estimates, and RIM shares surged 8% in after-hours trade.
World markets: Asian markets closed lower. Japan's benchmark Nikkei index fell 0.1%, and Hong Kong's Hang Seng index fell 0.2%. The Shanghai Composite sunk 1.9%.
European shares ended lower. The CAC 40 in France lost 0.5%, Germany's DAX fell 0.2%, and Britain's FTSE 100 slipped 0.3%.
Currencies and commodities: The dollar fell against the euro and the Japanese yen, but posted slight gains against Britain's pound.
Oil futures for October delivery fell $1.45 to settle at $74.57 a barrel.
Gold futures for December delivery jumped to a fresh record intraday high early Thursday of $1,279.50 an ounce. That trumps the previous intraday record of $1,276.50 an ounce, which was just set on Tuesday.
The precious metal also hit a settlement record, closing at $1,273.60 an ounce. Gold has gained traction as investors turn to it as a "safe haven" play in times of economic uncertainty. For that reason, the precious metal is an indicator of investor sentiment.
Bonds: The yield on the 10-year Treasury note rose to 2.76% from 2.72% late Wednesday.