Stocks waver amid investor caution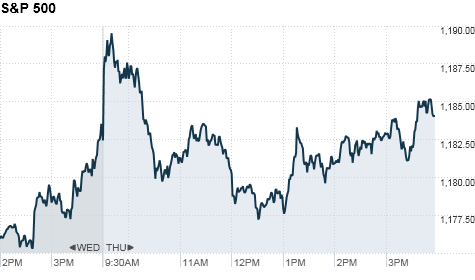 NEW YORK (CNNMoney.com) -- Stocks pared earlier losses and ended virtually unchanged Thursday, as investors remained cautious ahead of next week's Federal Reserve meeting.
Starting the session with strong gains, stocks were fueled by optimism from corporate earnings and a report showing fewer people filing for first-time unemployment. However, skittishness prevailed and stocks seesawed throughout the session.
The Dow Jones industrial average (INDU) closed 12 points lower, or 0.1%, with 3M (MMM, Fortune 500) and Caterpillar (CAT, Fortune 500) leading the decline. Earlier, the blue chip index had added as many as 53 points and had lost 74 points.
The S&P 500 (SPX) finished 1 point higher, or 0.1%, while tech-heavy Nasdaq (COMP) gained 4 points, or 0.2%.
"We're going to have a lot of choppiness in the market until we get some clarity from the Fed's plan next week," said Peter Tuz, president at Chase Investment Counsel.
Stocks also ended the session mixed Wednesday as investors lowered their expectations for an aggressive move by the Federal Reserve to stimulate the economy.
Speculation over just how big of a move the Fed is going to make will continue to drive market activity through next week's Fed meeting, according to analysts.
"It's really all about the Fed next week -- and to a lesser extent elections," said Frank Longman, a market technician with Brean Murray, Carret & Co.
Stocks will likely remain on a roller coaster leading up to and possibly after the Fed announcement on Nov. 3.
Economy: The Department of Labor released its weekly jobless claims figures before the start of trade. The number was much lower than expected.
The number of Americans filing new claims for unemployment fell to a 3-month low of 434,000 -- a decline of 21,000 from the prior week. Economists expected claims to have risen to 458,000, according to Briefing.com.
Companies: 3M (MMM, Fortune 500) reported a third-quarter profit of $1.53 per share on revenue of $6.9 billion. The company beat on earnings but fell short on sales, sending its stock down 6.5% and making it the Dow's biggest loser.
Exxon Mobil (XOM, Fortune 500) also beat expectations on profit but not revenue. The oil giant earned $1.44 per share on revenue of $95.3 billion for the third quarter. Shares rose 0.8%.
Eastman Kodak (EK, Fortune 500) shares surged 15.3% after the company reported a narrower loss, citing growth in its digital businesses. While total sales edged down 1%, digital sales surged 10% during the latest quarter.
Shares of Avon Products (AVO) lost 5.6%, after the company's profit and sales came in weaker than expected. Avon's sales in North America and Latin America fell short of the company's forecast.
Halliburton (HAL, Fortune 500) stock sank 8% after a report from federal investigators suggested the oil services company knew the cement it used on the BP oil well was unstable.
Motorola (MOT, Fortune 500) reported better-than-expected third-quarter earnings of 16 cents per share, on total sales of $5.8 billion. The company attributed its strong earnings to growth in smartphone sales, particularly in China. Shares rose 0.5%.
Shares of Microsoft (MSFT, Fortune 500) spiked 1% after-hours after the company beat expectations with a quarterly profit of $5.41 billion, or 62 cents per share. Sales soared 25% to $16.2 billion, and also topped estimates.
Microsoft (MSFT, Fortune 500) will release its quarterly earnings after the market closes. Analysts predict a profit of 55 cents per share on $15.8 billion in revenue. Microsoft's stock edged up 0.9%.
General Motors is taking a big step toward repaying taxpayers for last year's $50 billion bailout, announcing it will repurchase $2.1 billion in preferred stock held by the Treasury Department.
Verizon Wireless (VZ, Fortune 500) has agreed to pay $25 million to the government to settle an investigation of the "mystery fees" it improperly charged millions of customers for data sessions they never intended to launch, the Federal Communications Commission said Thursday. The stock closed down 0.3%.
World markets: European stocks ended higher, with Britain's FTSE 100 and France's CAC 40 adding 0.6%. The DAX in Germany advanced about 0.5%.
Asian markets ended the session mixed. The Shanghai Composite slid 0.2%, while the Hang Seng in Hong Kong rose by 0.2%. Japan's Nikkei fell 0.2%.
Currencies and commodities: The dollar fell against the euro, Japanese yen and the British pound.
Oil for December delivery gained 24 cents to settle at $82.18 a barrel.
Gold futures for December delivery gained $19.90 to finish at $1,342.50 an ounce.
Bonds: Prices on U.S. Treasuries rose, pushing the yield on the benchmark 10-year bond down to 2.7%.