Stocks poised for weak open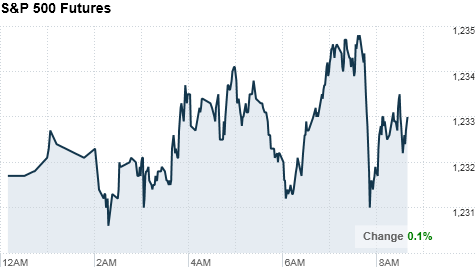 NEW YORK (CNNMoney.com) -- U.S. stocks were poised to open little changed Thursday morning, after a couple of economic reports gave a mixed picture of the labor and housing markets.
Dow Jones industrial average (INDU), S&P 500 (SPX) and Nasdaq (COMP) futures were up slightly ahead of the opening bell. Futures measure current index values against perceived future performance.
On Wednesday, stocks declined as investors weighed worries about a possible Spain downgrade with relatively upbeat U.S. inflation data.
The Senate approved the controversial $858-billion tax package Wednesday, despite a series of objections from both parties. The measure, which passed 81-19, now advances to the House.
Most investors expect the compromise to pass largely intact. Markets will likely get a bit of a boost as the deal is formalized, but "unless there is a wholesale shift and it goes into this huge battle," markets won't move too much, said Dan Cook, CEO of IG Markets.
Stocks have managed to eke out gains over the past few sessions, and are up 5% for the month.
Economy: The number of people filing for initial unemployment benefits fell 3,000 to 420,000 in the latest week, the Labor Department said. Meanwhile, continuing claims -- those workers who have filed unemployment claims for their second week or more -- were up 22,000 to 4.13 million.
Government figures showed that housing starts fell 5.8% to 555,000 annual rate in November, better than the 545,000 starts that economists were expecting. Building permits declined 14.7% year-over-year to 530,000 in November, the government said. Analysts surveyed by Briefing.com expected 560,000 building permits to be issued.
Economic data will likely push stocks slightly around, according to Cook, but at this time of year -- trading volume is thin with so many investors packing up and heading out for the holidays. "You see big exaggerated moves, and that is something traders want to watch out for."
Companies: Federal Express reported third-quarter earnings and sales that missed forecasts. FedEx (FDX, Fortune 500) earned $1.16 a share, missing estimates by 15 cents. Revenue rose 12% to $9.63 billion, but that amount also missed analysts forecasts -- which had called for $9.7 billion.
The shipping company, which had its busiest shipping day Monday, reigned in its forecast for the current quarter but raised its outlook for fiscal 2011. Shares of FedEx slid 2% in premarket trading.
General Mills (GIS, Fortune 500) reported profits and sales that also missed forecasts. Revenue was up 1% in the quarter, but came in just barely under estimates at $4.07 billion. Earnings per share, excluding a one time tax benefit, were at 76 cents -- below the 78 cents per share analysts were looking for. Shares dipped slightly in premarket trade.
BlackBerry maker Research In Motion (RIMM) and Oracle (ORCL, Fortune 500) are on deck after the market closes.
World markets: Spain sold € 2.4 billion worth of 10- and 15-year bonds Thursday, but the eurozone government had to pay higher interest rates for each than in previous sales, according to a spokesperson for the Economy Ministry's Treasury Department. Wednesday, credit rating agency Moody's said it may downgrade Spain's credit rating.
Greece, Ireland and Portugal continue to suffer from debt problems. "These are all important countries, but they are not like Spain," Cook said. "It is still a huge mess, but for the most part the markets have gotten used to what is going on."
Meanwhile, the Irish government reported Thursday that its gross domestic product grew by 0.5%, marking the first growth since late 2007. The growth in GDP is primarily attributable to strong performance of the export sector, according to the country's Minister for Finance. On Wednesday, Irish officials accepted IMF funds connected to its €85 billion bailout
European stocks were mixed in morning trading. Britain's FTSE 100 edged up a tad, while the DAX in Germany edged down a tiny bit, and France's CAC 40 shaved 0.2%.
Asian markets ended the session mixed. The Shanghai Composite lost 0.5% and the Hang Seng in Hong Kong plunged 1.3%, while Japan's Nikkei edged up very slightly.
Currencies and commodities: The dollar slipped against the euro, the Japanese yen and the British pound.
Oil for January delivery slipped 43 cents to $88.19 a barrel.
Gold futures for February delivery fell $10.10 to $1,376.10 an ounce.
Bonds: The price on the benchmark 10-year U.S. Treasury rose, pushing the yield down to 3.51%.

-- CNN's Al Goodman contributed to this report.