M&A and earnings drive stocks to fresh highs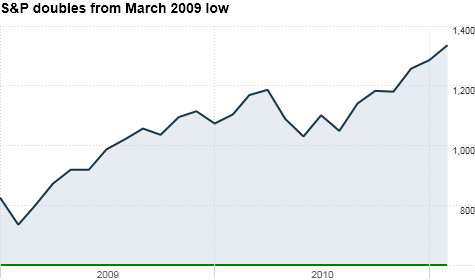 NEW YORK (CNNMoney) -- U.S. stocks finished at the highest level in more than two years Wednesday, propelled by a $20 billion merger in the pharmaceutical sector and a batch of solid corporate earnings.
The Dow Jones industrial average (INDU) gained 62 points, or 0.5%, to finish at 12,288, the highest level since June 2008. JPMorgan Chase (JPM, Fortune 500) and Hewlett Packard (HPQ, Fortune 500) led the advance.
The S&P 500 (SPX) added 8 points, or 0.6%, to end at 1,336, more than doubling its financial meltdown low of 666.79, which it hit on March 6, 2009. The index took less than 23 months to rise 100% -- which appears to be its fastest double since S&P started publishing it in 1957. Wednesday's uptick also put the index at its highest level since June 2008.
Family Dollar (FDO, Fortune 500) rallied 9.3% after the discount retailer said it received an unsolicited offer from Nelson Peltz's Trian Group, making it the biggest gainer on the S&P 500.
The Nasdaq (COMP) rose 21 points, or 0.8%, led by a 12% jump in shares of Dell (DELL, Fortune 500), which delivered a stellar fourth-quarter profit. Comcast (CMCSA, Fortune 500) was also a strong performer on the tech-heavy index, with the cable TV provider jumping 4% after reporting better-than-expected quarterly results. The Nasdaq finished at its highest level since November 2007.
Investors were also cheering the latest big M&A deal. French drugmaker Sanofi-aventis agreed to buy Genzyme, a Massachusetts-based biotech company, for $20.1 billion in cash. The deal was announced before the opening bell. Shares of both Sanofi (SNY) and Genzyme (GENZ, Fortune 500) rose more than 1%.
"We've been talking about a pickup in M&A deals, and we expect to see more to take place over the course of the year," said Matt King, chief investment officer at Bell Investment Advisors. "It's a sign that corporate America is more confident about doing business again."
On Tuesday, NYSE Euronext (NYX, Fortune 500) and Germany's Deutsche Boerse said they would tie the knot to create the world's largest exchange.
King added that the trend of fourth-quarter results coming in above expectations continues to gain traction, with Comcast, Abercrombie & Fitch (ANF) and Deere & Co. (DE, Fortune 500) all posting better-than-expected earnings Wednesday morning.
U.S. stocks finished lower Tuesday, posting their biggest losses in more than 2 weeks.
Companies: Borders Group, the nation's second largest book store chain, filed for Chapter 11 bankruptcy and announced plans to close 30% of its stores.
The filing was not a surprise. Shares of the company have plunged almost 75% in 2011 in anticipation of the news. Borders has been struggling with declining sales since the recession took hold in 2008. It has also been hurt by growing competition from online book sellers.
Economy: A government report showed the number of housing starts rose more than expected in January, while permits for new construction were weaker than forecast.
Housing starts rose 14% to an annual rate of 596,000 units last month, while building permits, considered a leading indicator of activity, fell 10% to an annual rate of 562,000 in January.
The government's Producer Price Index, a measure of wholesale inflation, rose 0.8% in January. The increase was slightly larger than expected.
Minutes from the most recent meeting of the Federal Reserve released Wednesday showed that policymakers anticipate a bigger bump in economic growth for 2011 than they thought just a few months ago. But the Fed said the acceleration in growth will mainly be limited to the short term, as growth estimates for 2012 and 2013 were only slightly adjusted.
World markets: European stocks finished with gains. Britain's FTSE 100 rose 0.8%, the DAX in Germany edged 0.2% higher and France's CAC 40 added 1%.
Asian markets ended higher. The Shanghai Composite rose 0.8%, the Hang Seng in Hong Kong jumped 1.1% and Japan's Nikkei ticked up 0.6%.
Currencies and commodities: The dollar fell against the euro and the Japanese yen, but showed strength versus the British pound.
Oil prices spiked Wednesday following reports that Iran was moving warships through the Suez Canal on their way to Syria. Crude futures rose 67 cents, or 0.8%, to settle at $84.99 per barrel.
Gold futures for April delivery rose $1 to $1,375.10 an ounce.
Bonds: The price on the benchmark 10-year U.S. Treasury was little changed, with the yield at 3.62%