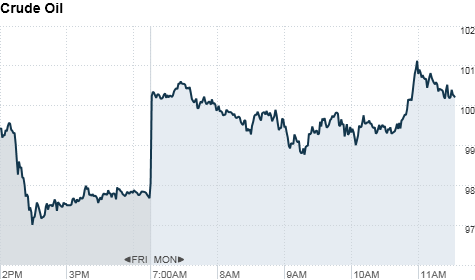 Oil prices jumped 4% Monday after falling by more than 15% last week. Click the chart for more commodities data.
NEW YORK (CNNMoney) -- Investors poured back into commodities Monday, with silver and oil leading the way higher after getting hammered last week.
Crude oil futures for June delivery rose 5.5%, to $102.55 a barrel Monday. Prices are rebounding from a plunge of nearly 15% last week -- their biggest weekly drop since late 2008.
James Cordier, president of Liberty Trading Group, called last week's activity a "healthy correction" and said Monday's bounce could be the start of a new leg up for oil prices.
He said oil could move back up to $105 a barrel in the short term, but it may take a couple of months to reach $115 again.
"[Oil] wants to go up this time year, and even if money comes out of the commodities market, demand will push us upward," said Cordier. Memorial Day marks the start of the summer driving season, and if more drivers hit the road, demand for gasoline (and oil) will rise.
Hedge funds and other speculators who had bet on rising prices may be heading for the exits as well, after taking a beating during last week's rout, said Jim Ritterbusch, president of commodities trading firm Ritterbusch & Associates.
Precious metals prices were also sharply higher Monday, with gold prices rising 1.3% to $1,510.50 an ounce and silver prices jumping more than 5% to $37.12 an ounce.
Silver prices plunged nearly 30% last week, in part because of higher margin requirements, which meant traders had to leave more money on the table for their futures contracts. A rebound in the dollar also helped drive precious metals lower.
Nearly $1 billion flowed out of silver exchange traded funds last week, according to research firm Lipper.
Meanwhile, gold is considered a safe-haven investment, so news that Standard & Poor's had cut Greece's credit rating reignited worries about that country's debt problems and gave investors incentive to buy the yellow metal.
In other commodities, wholesale gasoline prices jumped 5% on Monday to $3.20 a gallon on concerns that several Mississippi refineries may have to shut down due to Mississippi River flooding.
Meanwhile the average U.S. price of a gallon of regular gasoline Monday fell by a penny to $3.96, according to motorist group AAA.