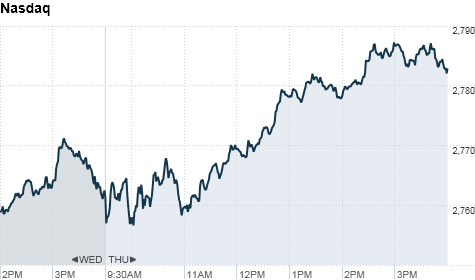 Click the chart for more market data.
NEW YORK (CNNMoney) -- Stocks edged higher Thursday as momentum in the technology sector offset disappointing reports on economic growth and the labor market.
The Dow Jones industrial average (INDU) rose 8 points, or 0.1%, to end at 12,403; the S&P 500 (SPX) added 5 points, or 0.4%, to 1,326; and the tech-heavy Nasdaq Composite (COMP) gained 22 points, or 0.8%, to close at 2,783. The Dow had been down more than 70 points earlier in the session.
Technology shares helped offset broader market losses, with technology blue chip Microsoft (MSFT, Fortune 500) rising 2% and Hewlett-Packard (HPQ, Fortune 500) gaining 1.5%. Microsoft shares were higher after large shareholder David Einhorn called for CEO Steve Ballmer to step down.
"All these tech giants like Microsoft, Dell, HP have gotten so big, they're very hard to manuveur," said Daniel Morgan, portfolio manager with Synovus Trust Co., who also owns Microsoft shares.
Among other tech names, NetApp (NTAP) shares jumped 7% after the data storage company reported strong quarterly results late Wednesday and issued an upbeat outlook for the current quarter.
The biggest decliners among the blue chips were Merck (MRK, Fortune 500) and Home Depot (HD, Fortune 500), which were both down roughly 1%.
Stocks have been struggling this month, as optimism over upbeat corporate earnings has been tempered by signs the economy could be entering a slowdown this summer.
Evidence of a weaker economy was prevalent in two economic reports released Thursday morning.
The number of Americans filing for first-time unemployment benefit claims remained above 400,000 for the seventh week in a row. Additionally, the government's revised reading on first-quarter growth domestic product remained at 1.8%. Economists expected GDP to bump up to 2%.
"The data doesn't bode well for the summer," said Stephen Carl, head trader with Williams Capital.
May has been a volatile month for stocks overall, with the Dow and S&P 500 both falling about 3.2% since the beginning of the month.
Analysts at Standard & Poors are predicting the stock market could be in for a 10% correction over the next month.
"The global equity markets continue to wrestle with the paradox of rising earnings estimates and declining global economic growth indicators," said Sam Stovall, chief investment strategist with Standard & Poor's Equity Research, in a note to investors Wednesday.
Stocks posted modest gains Wednesday, but are in negative territory for the week overall.
Companies: Shares of Tiffany & Co. (TIF) rose more than 8.5%, after the luxury jeweler reported a 12% jump in sales. The company also hiked its quarterly dividend payment to 29 cents per share from 25 cents.
Signet Jewelers (SIG) also fared well, with its stock rising 5%. The retailer, which operates Kay Jewelers, Jared, The Galleria Of Jewelry and chains in the U.K., got a big boost from U.S. sales in its latest quarter.
Shares of MasterCard (MA, Fortune 500) rose 3%, following a joint announcement by Google (GOOG, Fortune 500) -- along with MasterCard and Sprint (S, Fortune 500) -- of a new mobile payment system called Google Wallet.
Computer Sciences Corp.'s (CSC, Fortune 500) shares dropped 13%, after the company's quarterly results came in short of expectations. The company said it earned an adjusted profit of $1.01 a share, while analysts were looking for $1.16 a share.
Freescale Semiconductor (FSL) priced its initial public offering at $18 a share, below its estimated range of between $22 and $24 per share. Shares rose 2% following its IPO.
Currencies and commodities: The dollar fell against the euro, the Japanese yen and the British pound.
Oil for July delivery dropped $1.09, or 1.1%, to $100.23 a barrel.
Gold futures for June delivery slid $4.10 to $1,523.20 an ounce. Silver for June delivery fell 0.8% to $37.33 an ounce.
Bonds: The price on the benchmark 10-year U.S. Treasury rose, pushing the yield down to 3.09% from 3.14% late Wednesday.
World markets: European stocks closed Thursday's session mixed. Britain's FTSE 100 rose 0.2%, while the DAX in Germany slid 0.8% and France's CAC 40 fell 0.3%.
Asian markets ended mixed. The Shanghai Composite edged lower 0.2%, while the Hang Seng in Hong Kong added 0.7% and Japan's Nikkei rallied 1.5%.