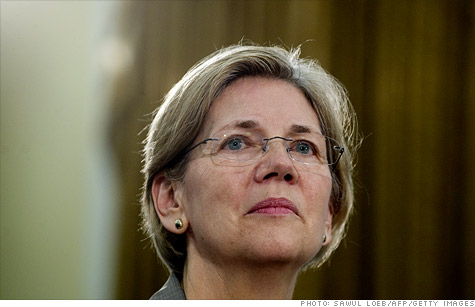 Elizabeth Warren, a special adviser to the Treasury Secretary, returns to Capitol Hill on Thursday to talk about the consumer bureau's official first steps as a new regulator.
WASHINGTON (CNNMoney) -- With a week to go before the new consumer bureau takes off, the White House has yet to appoint its director -- an omission bound to attract criticism when House Republicans grill Elizabeth Warren at a Thursday hearing.
For nearly a year, the White House has held off on nominating a director of the Consumer Financial Protection Bureau (CFPB), a new independent regulatory agency for mortgages and credit cards that officially begins wielding power on July 21.
Warren has been working long hours to prepare the bureau for its new role, which will include such tasks as inspecting the books at the nation's biggest banks that control most of the nation's mortgages.
"Starting on July 21, we will be a cop on the beat -- examining banks and protecting consumers," said Warren, the Harvard professor who is working as a special adviser to the Treasury Secretary, in a statement this week.
But the job of the top cop looking out for consumers will remain empty for some time.
And that's why Republicans on the the House Oversight Committee want to question Warren on Thursday. Darrell Issa, the California Republican who chairs the committee, plans to ask her what the bureau plans on doing next week. It's a follow-up to a May subcommittee hearing, when Republicans argued with her and tried to pin her down with yes or no questions.
"This hearing will give Professor Warren an opportunity to provide clear information -- which has so far not been articulated in public statements, budget justification, FOIA (Freedom of Information Act) responses, or previous congressional testimony -- about how the administration intends to go about protecting consumers," said Issa spokeswoman Becca Watkins.
President Obama faces pressure from the right and left when it comes to nominating a consumer bureau director.
Republicans have vowed to block any nominee to run the bureau without new legislation that would weaken its powers. Many House Democrats -- including Barney Frank, whose name is on the financial reform law creating the bureau -- want President Obama to appoint Warren to run the bureau during a congressional recess. That would avoid a Senate confirmation battle and limit her tenure to the end of 2012.
"I don't think (the CFPB director) has to be Senate-confirmed, I think a recess appointment does it," Frank said Monday during a speech at the National Press Club. "When you are not going to confirm anybody, you can't object when people are going to act that way."
A director-less bureau would lack new powers critical to preventing the next financial crisis --- such as regulating the non-banking firms that originated hundreds of millions of dollars in subprime mortgages during the height of the boom to families who couldn't afford them.
Another thing the consumer bureau can't do is declare financial products deceptive or abusive and ban them, according to an Inspector General report. It also likely can't force banks to issue the simpler mortgage disclosure form the bureau is working on now that's due out in 2012.
But if no director is appointed and confirmed by the 21st, Treasury Secretary Tim Geithner can continue to delegate management of the consumer bureau to Warren, the Harvard University professor who came up with the idea for the bureau.
Here are some of the powers the bureau is preparing to wield, based on powers the bureau inherits from other financial regulators:
-- Send bank examiners in to inspect the books of the largest banks with more than $10 billion in assets, which account for 65% of all mortgages.
-- Ensure that the biggest banks are abiding by credit card laws that require more disclosure and crack down on fees. They can also craft new rules aimed at stopping banks that try to get around the credit card laws.
-- Finish crafting rules that ban banks and other lenders from making mortgage without verifying income, an effort end the practice of so-called "liar loans."
-- Respond to consumer complaints. The consumer bureau has a website to collect complaints on credit card abuses, which it plans to expand for complaints on other financial products.
Consumer advocates say they're confident the bureau can be pretty powerful even without a confirmed leader.
"The Consumer Financial Protection Bureau will help bring fairness to the financial marketplace and ensure families don't get tripped up by tricks and traps buried deep in the fine print," said Pamela Banks, senior policy counsel for Consumers Union, the nonprofit publisher of Consumer Reports.