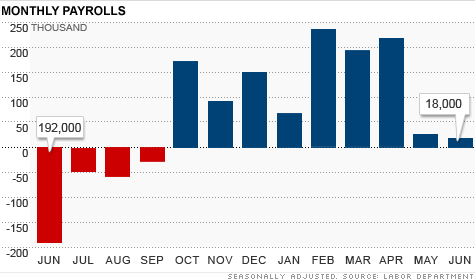 Job growth had been picking up before two dismal months in May and June. Is the debt ceiling drama really causing businesses to stop hiring?
NEW YORK (CNNMoney) -- There are many reasons to worry about what will happen if there is no agreement to raise the debt ceiling by August 2.
But I am getting sick and tired of hearing CEOs complain that the "uncertainty" the political posturing creates is keeping companies from hiring more workers and taking other steps to invest for growth.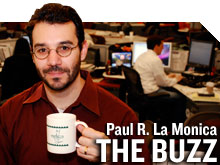 With all due respect to GE's (GE, Fortune 500) Jeff Immelt, that's just a total load of you know what. There are plenty of companies that don't appear to be paralyzed by fear and are going about their daily business.
Google (GOOG, Fortune 500) disclosed late Thursday in its earnings report that it added 2,500 workers in just the second quarter. That's headcount growth of 9%!
A smaller online advertising firm, ValueClick (VCLK), boldly declared earlier this month it was looking to increase its workforce by 10% -- with jobs available in New York, San Francisco, Chicago, Boston and Los Angeles. (The headline on the press release the company put out proclaimed: ValueClick CEO: "We're on the Move and Hiring!")
Google and ValueClick are not alone. I conducted a survey of two dozen CEOs back in May. And all but one of the members of that group, which included the heads of S&P 500 members Leggett & Platt (LEG) and F5 Networks (FFIV) as well as the CEO of bond investing giant PIMCO, said their firms planned to hire more this year in spite of concerns about the debt ceiling and deficit.
And on Friday morning -- not normally a day for big deals, particularly in the summer -- two major takeover bids were announced.
Activist shareholder Carl Icahn disclosed that his Icahn Enterprises (IEP, Fortune 500) holding company wants to buy bleach maker Clorox for $12.6 billion. And Australian mining giant BHP Billiton (BHP) offered to buy Houston-based natural gas firm Petrohawk Energy (HK) for $12.1 billion.
The BHP deal is particularly noteworthy. Resource-rich Australia, unlike the United States, actually has a strong dollar thanks to the booming market for commodities. So the fact that BHP is willing to invest in the supposedly risky United States says something.
And this is actually BHP's second large deal this year. BHP agreed to purchase natural gas shale assets in Arkansas from Chesapeake Energy (CHK, Fortune 500) for $4.75 billion back in February.
Merger activity has been hot and heavy all year as companies look for ways to deploy the massive amounts of cash sitting on their balance sheets that they started to hoard back when the economic outlook was truly uncertain: 2008 and 2009.
There's even an honest-to-God bidding war going on in the sleepy utility sector of all things.
Williams Companies (WMB, Fortune 500) and Energy Transfer Equity (ETE, Fortune 500) are battling for Southern Energy. Energy Transfer first offered $4.2 billion for Southern Energy (SUG) in June. After several sweetened counteroffers, the latest bid from Williams values Southern Energy at $5.5 billion.
Why on earth would Williams and Energy Transfer be willing to keep putting more chips on the table if they really feared economic "calamity?" For that matter, why would any company offer to buy another if they legitimately had serious doubts about a debt deal getting done?
If "uncertainty" really was something that terrified big businesses right now, shouldn't they just continue to sit on the sidelines with all that cash until it's clear that there's a resolution to the deficit soap opera?
Sadly, most businesses do appear to be doing that when it comes to jobs at least. The lackluster labor numbers from May and June seem to prove that companies like Google are the exception rather than the rule.
But that is so frustratingly short-sighted. If companies are still confident enough to use money to spend on acquisitions, increase dividends and buy back stock, they should be able to afford more employees too so they can grow their business.
I just don't get it, Corporate America. If you're that worried about a debt default and financial meltdown, then this is the absolute worst time to buy other companies. Don't complain about how lawmakers are the ones preventing you from adding jobs while simultaneously using gobs of cash on mergers.
Leaders of big companies have to stop talking out of both sides of their mouths. They're almost as bad as the politicians.
Reader comment of the week ... and many is a word that only leaves you guessing. The News Corp. tabloid scandal is making Rupert Murdoch's life miserable. He vented in an interview with the News Corp.-owned Wall Street Journal Thursday. That led me to jokingly wonder on Twitter about how the WSJ was able to get Murdoch to speak to them.
Derek Siek had a great response to my query. "not really an interview... they hacked his phone..." he quipped. Brilliant!
Finally, time to give another coveted Buzz shout-out! With gold nearing $1,600 an ounce, I asked Twitter followers to name this tune. "I live for my dream and a pocketful of gold." The song is "Over the Hills and Far Away" by Led Zeppelin.
The winner is a woman with the appropriate Twitter handle of @metalkaren.
And in addition to being a fan of hard rock, she's also CNNMoney's hard-working economy editor. That means she drew the shortest straw (Great Metalllica tune from ...And Justice for All. Wouldn't you agree, Karen?) and gets to wade through my daily meanderings. So congrats to Karen. And thanks for all you do.
But perhaps @metakaren (which is sadly already taken) would be a more fitting Twitter feed name?
The opinions expressed in this commentary are solely those of Paul R. La Monica. Other than Time Warner, the parent of CNNMoney, and Abbott Laboratories, La Monica does not own positions in any individual stocks.