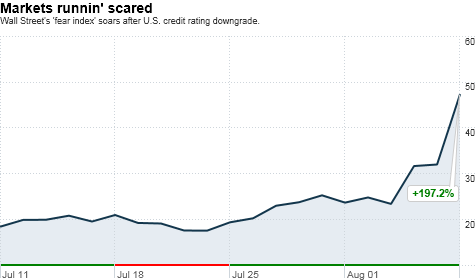 Click the chart for more on VIX.
NEW YORK (CNNMoney) -- Wall Street's key measure of volatility, the VIX, skyrocketed to a 52-week high on Monday after Standard & Poor's historical downgrade of the United States' credit rating.
Late Friday, S&P downgraded the U.S. by one notch to "AA+", removing the world's largest economy from the Triple A-club for the first time ever.
The CBOE Volatility index (VIX), or the VIX, jumped 50% to 48 on Monday as all three major U.S. stock indexes plummeted. That's the highest level since March 2009.
A VIX reading higher than 30 is considered a sign that investors are getting worried. But even at Monday's highs, the VIX is still way below the peak level of almost 90 hit in October 2008 -- after Lehman Brothers collapsed.
The VIX is up more than 123% year-to-date, when it was trading at 5.58 -- its lowest level in nearly three years.
Experts have said the initial shock of the S&P downgrade is not surprising, but it should not impact markets too much in the long term -- after all, investors are aware of how fragile the recovery has been. Still, the unprecedented nature of S&P's move makes the market tough to predict.
But even if reactions to the S&P downgrade prove relatively muted, other issues have been weighing on stocks. The escalating European debt crisis has rocked markets across the globe.
Things aren't much better stateside. Recent economic data, including the second-quarter GDP report and July's ISM manufacturing figures, have come in well below expectations.
That's contributing to growing fears about the economy falling back into recession. Investors are looking to see whether the Federal Reserve -- which will release its latest policy announcement on Tuesday -- considers these data points just temporary setbacks or signs that the U.S. economy is slowing.
While the Fed is expected to leave interest rates at near-zero levels, the recent dismal economic data is making investors speculate that the Fed may need to consider additional stimulus.