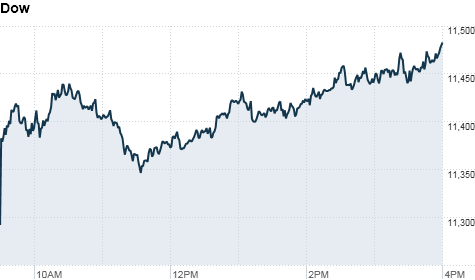 Click the chart for more stock market data.
NEW YORK (CNNMoney) -- U.S. stocks moved solidly higher Monday, with major indexes rising about 2%, as merger activity set a positive tone on Wall Street.
The Dow Jones industrial average (INDU) rose 214 points, or 1.9%, to end at 11,482.90. The S&P 500 (SPX) added 26 points, or 2.2%; and the Nasdaq (COMP) gained 47 points, or 1.9%.
The return of "Merger Monday" boosted investor sentiment. Google agreed to buy Motorola Mobility for $12.5 billion, the two companies said Monday.
Shares of Motorola Mobility (MMI) surged 56%, leading the gains on the S&P 500. The merger also helped boost shares of BlackBerry maker Research in Motion (RIMM) as well as Nokia Corp (NOK).
Bank of America's (BAC, Fortune 500) stock spiked 7.9% after the bank said it is selling its credit card business in Canada to TD Bank Group for $8.6 billion, and is exiting its credit card businesses in the U.K. and Ireland.
Shares of offshore drilling contractor Transocean (RIG) rose 3% after it announced plans to buy Norway's Aker Drilling for $1.4 billion.
"Companies have been hoarding cash since 2008 due to the uncertainty of the economic climate, so the fact that they're putting that cash to work is a huge positive," said Peter Tuz, president of Chase Investment Counsel. "It shows that managements are optimistic."
Stocks ended one of the biggest roller-coaster weeks ever on a relatively quiet note Friday, with the Dow climbing 126 points to post its second gain in a row. Earlier last week, the indexes swung wildly between gains and losses of 4% to 5% a day.
But on Monday, Wall Street's key measure of volatility slipped. The CBOE Volatility index, or the VIX (VIX), fell about 12.5% to 31.8. A VIX reading higher than 30 is considered a sign that investors are getting worried -- but Monday's reading was much lower than last week's levels.
The market turmoil was sparked by fear among investors that Europe is heading toward a financial catastrophe, and that the U.S. is slipping into another recession.
While those fears haven't completely disappeared, investors are seeking bargains in stocks following three weeks of losses, said Scott Marcouiller, chief technical market strategist at Wells Fargo Advisors.
Companies: Second-quarter results for home improvement chain Lowe's (LOW, Fortune 500) fell short of expectations. The company also trimmed its forecast for the year. Lowe's shares slipped 1.6% earlier in the session, but recovered to rise 0.9% by the end of the day.
After the bell, retailer Urban Outfitters (URBN) reported second-quarter earnings that topped Wall Street estimates. Shares gained nearly 6% in after hours trading.
World markets: European stocks finished with modest gains. Britain's FTSE (FTSE) 100 rose 0.6%, Germany's DAX (DAX) added 0.4% and France's CAC (CAC) 40 edged up 0.8%.
Investors welcomed news Monday morning that the Japanese economy contracted during the second quarter by much less than economists were expecting, following the devastating earthquake that hit in March.
Japan's gross domestic product shrunk by 0.3% last quarter, or 1.3% on an annualized basis.
Asian markets ended with solid gains. The Shanghai Composite rose 1.3%, the Hang Seng in Hong Kong jumped 3.3.% and Japan's Nikkei climbed 1.4%.
Economy: The positive news about mergers and Japan's economy helped offset a disappointing report on regional manufacturing activity.
The Empire State manufacturing index showed that factory activity contracted for a third straight month in August. The figure fell to minus 7.72 from minus 3.76 the prior month. The reading was worse than the minus 0.4 economists surveyed by Briefing.com were expecting.
Currencies and commodities: The dollar was lower against the euro and the British pound, but it advanced slightly versus the Japanese yen.
Oil for September delivery rose $2.50 to settle at $87.88 a barrel.
Gold futures for December delivery added $15.40 to settle at $1,758 an ounce.
Bonds: The price on the benchmark 10-year U.S. Treasury fell slightly, pushing the yield up to 2.28%.