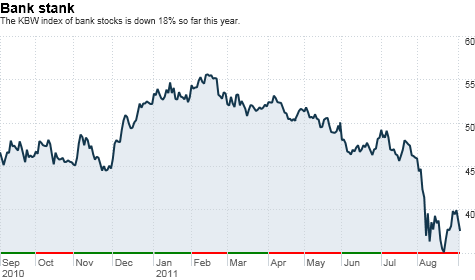 Click chart for more on the bank index.
NEW YORK (CNNMoney) -- Bank stocks sank Friday amid reports that federal housing authorities were planning to sue several financial firms for allegedly misrepresenting the value of mortgage-backed securities. And indeed, after the market closed the government agency that oversees Fannie Mae and Freddie Mac filed suit against 17 big financial institutions.
Friday's retreat came amidst a broad sell-off on Wall Street driven by a weaker-than-expected report on hiring and unemployment in August.
Bank of America (BAC, Fortune 500) was the hardest hit, with shares closing down 8.3%. Citibank (C, Fortune 500), JPMorgan (JPM, Fortune 500) and Wells Fargo (WFC, Fortune 500) all suffered significant losses.
The banking sector has been battered this year by concerns about potential legal costs stemming from the housing crisis. In addition, lending activity has been extremely weak as the economic recovery sputters.
"The financial sector performance has been a real laggard to say the least," said Brian Gendreau, a market strategist at Financial Network. "These lawsuits certainly do not clear up the uncertainty."
The Federal Housing Finance Agency is now targeting a slew of banks, including Goldman Sachs (GS, Fortune 500). JPMorgan Chase, Bank of America, Citigroup, Goldman Sachs and Deutsche Bank (DB), with the lawsuits it filed Friday evening.
The suits concern subprime home loans the banks packaged into mortgage-backed securities at the height of the housing bubble.
Those securities lost almost all their value as the housing market collapsed and borrowers began to default in droves.
Fannie and Freddie, which were taken over by the government in 2008, lost billions of dollars on mortgage-related assets. Those losses have effectively been shifted to U.S. taxpayers.
In its lawsuits, the FHFA is expected to argue that banks broke securities laws by failing to ensure that the underlying loans in the securities were sound. The agency is trying to force the banks to reimburse some of the losses.
The development adds to a growing list of legal woes for some of the nation's largest banks more than two years after the housing bubble burst.
On Thursday, the Federal Reserve announced an enforcement action against Goldman Sachs over lending practices in its former mortgage servicing business.
That came after the Fed issued a similar action against 14 other major banks in Apirl, warning that it plans to assess unspecified monetary penalties.
Banks are also under investigation by state attorneys general for shoddy foreclosure practices.
Bank of America has already reached an $8.5 billion settlement with investors in mortgage-backed securities. Among those it has settled with are other banks, the world's largest bond fund, Pimco (PTTRX), and the New York branch of the Federal Reserve.
But that agreement, which is subject to court approval, is facing opposition from state authorities and private investors.
Ethan Anderson, senior portfolio manager at Rehmann Financial, said the FHFA lawsuits suggest that government is trying to change the way the mortgage industry opperates.
"They're not just going after one or two banks, they're going after a dozen," he said. "I think they're trying to enforce industry standard change, and they're doing that by going after their pocketbooks."