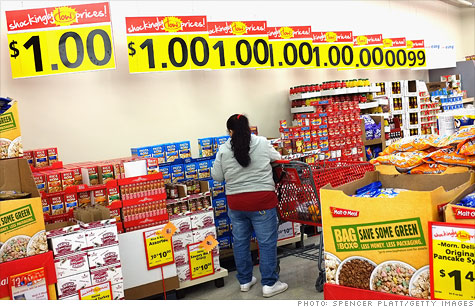 NEW YORK (CNNMoney) -- It may not be enough to make up for sluggish wages, but consumers are starting to get a slight break from rising prices.
The government's key measure of inflation, the Consumer Price Index, showed prices fell 0.1% in October. Compared to a year ago, prices were up 3.5%, marking a slowdown from a 3.9% rate in September.
It marked the first time since June that prices have fallen on a monthly basis, and as consumers got that relief in their wallets, retailers also saw a slight pick-up in sales.
"Hopefully it is an indication of some demand pick-up and that would be very good news indeed," said Robert Brusca, chief economist with FAO Economics, in a note to clients.
The CPI measure of inflation comes from a broad basket of goods, ranging from food and gas, to clothing, health care services and cars.
Of those, gas and autos led the index lower. Gas prices fell 3.1% in October and prices for new and used vehicles fell 0.4%. (Check gas prices in your state.)
Lower fuel prices alone meant consumers spent $363 million less at gas stations in October, freeing them to spend money elsewhere. That helped drive retail sales up 0.5% during the month, according to a separate report released Tuesday.
Drilling down to other specific categories though, shows certain types of products continue to see their prices rise slowly. Food prices, for example, rose 0.1% in October alone, and were up 4.7% compared to a year earlier.
From month to month, apparel prices were up 0.4%, rents rose 0.4%, medical care costs climbed 0.5% and education prices rose 0.4%.
While the overall index shows inflation isn't a significant threat to the economy right now, at the same time, the buying power of most Americans is still being eroded by stagnate wages and high unemployment.
Average hourly earnings of employees in the private sector, were up 1.8% in the 12 months ending in October, not enough to make up for inflation being up 3.5% during that same time.
"That's where you're seeing the erosion of spending power," said Sal Guatieri, senior economist at BMO Capital Markets. "For the most part, inflation pressures are starting to ease, but inflation is still rising faster than wages."
Both gas and food prices can be volatile, so economists often prefer to strip those categories out of their calculations to get a clean reading on overall inflation.
That measure, core CPI showed prices rose 0.1% in October, and were up 2.1% year-over-year.