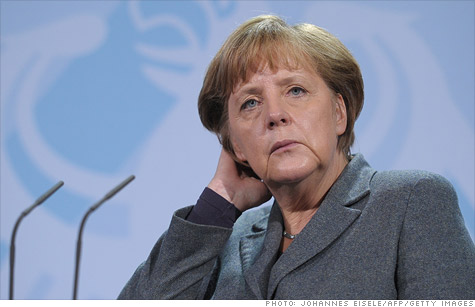 Germany's Angela Merkel is trying to instill Teutonic-style fiscal responsiblity throughout Europe, but bonds, stocks and the euro are behaving like last week's summmit didn't even happen.
NEW YORK (CNNMoney) -- What fiscal pact? There is little sign that last week's European summit even happened, judging from the high cost of sovereign debt and the weakness in European markets.
Last Friday, European leaders -- with the exception of Britain's David Cameron -- pledged to form a tighter, more deeply integrated fiscal bond among member states. Of course, most of the countries still need to get parliamentary approvals before moving forward.
One of the most crucial aspects of the fiscal pact, which was masterminded by Germany's Angela Merkel and France's Nicolas Sarkozy, was to force eurozone members to maintain responsible budgets. Countries would face sanctions if they allow their deficits to stray above 3% of their gross domestic product.
"[The summit] is clearly a stepping stone to fiscal union but there are still a lot of hoops to jump through," said Nick Stamenkovic, fixed income strategist at RIA Capital Markets in Edinburgh, Scotland. "People are getting more and more nervous for the outlook of Europe and the lack of political agreement."
Bond buyers showed little indication that they felt any better about European debt in Italy on Wednesday. Italy's €3 billion auction of five-year notes met with relatively strong demand, but resulted in a high yield of 6.47%.
And yields on Italy's 10-year bonds remain closer to 7% than 6%. That 7% level is closely watched since it typically starts to flash bailout warning signs.
Greece, Ireland and Portugal got bailed out shortly after their yields crossed that mark, though the bailouts weren't triggered until they went even higher.
Italian bond yields have risen above 7% before. While many experts think Italy can manage those levels for a bit, it is the third-largest economy in the eurozone and third-largest bond issuer in the world. In other words, it's too big to fail but also too big to bail out.
Last week's formation of the fiscal union was supposed to keep bond yields in check. But the only thing that could really put a lid on rising yields would be a promise from the European Central Bank that it will step in to buy more bonds. But that didn't happen.
The central bank's president, Mario Draghi, has stood firm, saying the ECB's only mandate is to manage inflation.
"They're not going to intervene on behalf of Italy because they believe that these countries should get their fiscal house in order and they shouldn't do their dirty work for them," said Stamenkovic.
Other symptoms of European economic weakness include the plunge of the euro to its lowest level since mid-January and the collective decline of the stock markets. Since Friday's summit, London's FTSE (UKX), the DAX (DAX) in Frankfurt, and the CAC 40 (CAC40) in Paris have all dropped between 1% and 4%.
Adding to the jitters are downgrade worries. Standard & Poor's put most of the 17 eurozone members on notice last week that they could face potential downgrades. The ratings agency also warned the EU, several banks and Europe's rescue fund that they could all face downgrades.
The warnings all came ahead of last Friday's summit and the S&P has said it hoped to complete it's decision-making process earlier than the normal 90-day window.
Mario Monti, the newly-anointed prime minister of Italy, was clearly annoyed by the stigma that's been attached to countries relying upon economic intervention, when the purpose of that intervention is to avoid international contagion.
"It is impossible to trace a border, as Germany would like it, between the virtuous and sinful countries," he told Italian senators Wednesday.
Meanwhile, German Chancellor Angela Merkel touted the plan to her Parliament Wednesday. "We have decided to correct constructional mistakes that were made at the beginning of the economic and monetary union," she said. "The answer in this situation could not be to do nothing."
Yields on German 10-year bonds slipped below 2%, once again cementing their Teutonic reputation as a bastion of economic strength and stability.
"The whole deal seems to be unraveling in our faces, and that is clearly benefiting German bunds at the expense of peripheral markets, particularly Italy," said Stamenkovic.
The French 10-year bond yield also declined, sliding to 3.2%.
-- CNN's Stephanie Halasz and Hada Messia contributed