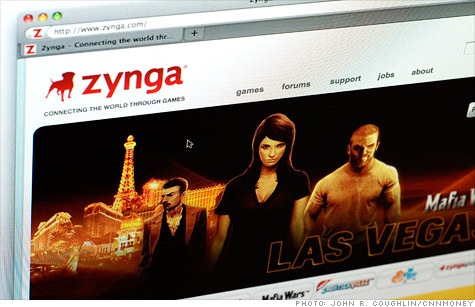 Social gaming company Zynga is one of nearly a dozen companies set to go public this week as the IPO mrket ends 2011 with a bang -- despite some lackluster debuts lately.
NEW YORK (CNNMoney) -- Groupon, LinkedIn and Pandora may have all plunged from the prices they hit on their first day of trading.
But that hasn't stopped other high-tech firms in trendy industries from rushing to go public before the end of the year. Cloud computing company Jive Software (JIVE) went public Tuesday and gained 25% on its first day.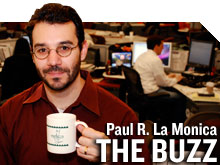 Meanwhile, investors are eagerly awaiting the debut of Zynga (ZNGA), the gaming company behind the popular FarmVille and Mafia Wars franchises as well as Alec Baldwin's favorite game, Words With Friends. It should price its offering Thursday and start trading Friday.
But it's not just tech firms joining the IPO parade. Eleven companies may wind up going public this week.
Investors (and fashionistas) will be paying close attention to the IPO of Michael Kors Holdings (KORS), the clothing house run by the snarkiest of "Project Runway" judges. Let's hope the offering, slated to price Wednesday and debut Thursday, is not a hot mess.
Other brand-name companies, including luxury travel bag maker Tumi, organic macaroni and cheese seller Annie's and local reviews site Yelp, have all filed to go public in recent weeks. That should put them on track to hit the markets sometime in early 2012.
But don't get too excited about an IPO boom: The window is open, but investors are clearly becoming more discerning.
The companies going public this week may be trying to make it out before the holiday break. Volume will slow to a near halt in the next two weeks as investors begin to close the books on 2011.
Two companies in less exciting industries than tech and apparel retailing started trading Wednesday and were relative duds.
Oil and natural gas producer Sanchez Energy (SN) priced below its expected range and then fell from its offering price. Israel-based supermarket owner Gazit-Global (GZT) also debuted Wednesday and traded lower.
And the collapse in the stock prices of the likes of Groupon (GRPN), LinkedIn (LNKD), Pandora (P) and other dot-coms is a clear sign that investors want to see more than just promise and hope. Actual earnings help.
"Deals are getting done, but attention doesn't always translate into returns," said Kathleen Smith, principal with Renaissance Capital, a Greenwich, Conn.-based research and investment firm that runs the Global IPO Plus Aftermarket fund.
In a market as rocky as this one, the IPO euphoria has been short-lived even for profitable companies with true brand-name recognition.
Shares of Dunkin' Brands (DNKN), while still up from their offering price, are trading 12% (mmm ....a dozen Munchkins) lower than their first-day closing price. Hospital owner HCA (HCA, Fortune 500), which was taken private by investment firms in 2006 and returned to the public markets this March, is trading about 33% below its offering price.
There's a difference between hype and success. To be fair, though, the problem may not be with the companies that have gone public. It's the broader market.
With daily stock moves causing many traders (and market reporters) to reach for the Pepto-Bismol, is it any wonder that the newest offerings -- which began trading back when the markets were calmer -- would be suffering the most now?
"Risk was summarily re-priced after August. The volatility has crippled the market," said David Menlow, president of IPOfinancial.com, an independent research firm based in Millburn, N.J.
Menlow thinks that 2012 will be a better year for the IPO market.
Smith is hopeful too. She said that Tumi could be a hit. So could Carlyle Group, the private equity firm that filed for an IPO earlier this year.
And then there's a certain social networking firm that is widely expected to start trading in 2012. I think it rhymes with Basehook? And someone may have made a movie about it?
"Investors are chasing companies with a unique business model and robust growth. A strong brand name like Facebook may be able to defy the economy," Smith said.
But Facebook's IPO success may hinge on whether or not investment bankers drive its market cap into the stratosphere.
Keep in mind that for all the complaints back in 2004 about how rich a price Google (GOOG, Fortune 500) was going public at, Google's market value on its first day was only $27 billion. People are speculating that Facebook could start trading at a market value nearly 4 times that -- one that may not be warranted.
"I'm worried about Facebook's valuation," Menlow said. "If Facebook goes out as a $100 billion company, I'd be very concerned about the market's approach to the stock."
Best of StockTwits: Research in Motion (RIMM) may need to change its name to Research in Slow Motion. Or Research in Downward Motion. The BlackBerry maker reports earnings Thursday after the closing bell. It lowered guidance earlier this month and many traders still think the worst is not over.
Dostoevsky: $RIMM total collapse
Hey. Aren't you the guy that wrote "Crime and Punishment?" The story of RIMM is awfully similar to a depressing Russian novel.
bobbarlow: Once $RIMM breaks $15 it will go down a lot faster, since many placed stop loss sell orders if it goes below 15.
For what it's worth, RIMM hit a new 52-week low of $14.87 earlier Wednesday but it has bounced back above $15 since then. But it's anybody's bet how low the stock could go if earnings are a disaster.
graubart: Or very drunk on a plane... RT @FLYiR: $RIMM earnings tomorrow at 4:30. You'll want to be on @stocktwits stream for this.
Hilarious. If you tied up a trader and threatened to buy RIMM stock for their portfolio, they just might chew through those restraints to stop you.
The opinions expressed in this commentary are solely those of Paul R. La Monica. Other than Time Warner, the parent of CNNMoney, and Abbott Laboratories, La Monica does not own positions in any individual stocks.