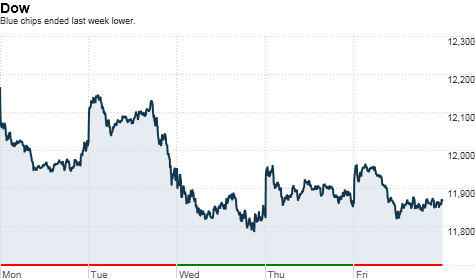 Click on chart for more market data.
NEW YORK (CNNMoney) -- The week ahead on Wall Street could be a choppy one, as investors remain worried about the debt crisis in Europe.
Trading volume is expected to be low, with many market players taking time off ahead of the holidays. That could make for a volatile week, since low trading volume tends to exaggerate swings in the market.
"Low volume can skew the market either way, and it can be quite dramatic," said Quincy Krosby, market strategist with Prudential Financial. As a result, she added, "analysts normally don't put much conviction in the moves."
That said, investors will still be keeping a close eye on what's going on in Europe.
In particular, there is widespread speculation that Standard & Poor's will soon downgrade France and other eurozone governments, after the ratings agency put 15 members of the currency bloc on review earlier this month.
"S&P could well move before the year end, with Moody's hot on its heels early next year," wrote Grant Lewis and Tobias Blattner, market analysts at Daiwa Capital Markets, in a report.
Investors will also be watching the euro currency. The euro, which had been fairly resilient throughout the crisis, fell below a key level last week against the U.S. dollar.
Meanwhile, traders have a full slate of reports on the U.S. economy to chew on in the week ahead.
Next week brings the government's final reading on U.S. Gross Domestic Product for the third quarter. Economists expect the report to show growth of 2.0%, up from 1.3% in the second quarter and unchanged from the previous estimate.
In addition, reports are due on the housing market, durable goods orders, personal income and spending, as well as a key measure of consumer sentiment.
The U.S. economy has been showing signs of strength recently. But investors will be looking for signs that consumers are willing to spend big this holiday season.
Investors will also continue to follow the latest debates on Capitol Hill, as lawmakers come closer to a deal on a spending bill that would prevent a government shutdown.