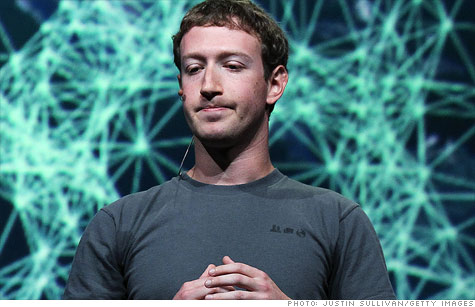 Facebook will dwarf all other IPOs in 2012, but is unlikely to revive the initial public offering market on its own.
NEW YORK (CNNMoney) -- When it comes to IPOs, 2012 will be the year of Facebook.
CEO Mark Zuckerberg hasn't come right out and said it but most people expect a Facebook IPO filing early on in 2012, eight years after Zuckerberg founded the company in his Harvard dorm room (or by some accounts in the dorm of his twin nemeses).
Zuckerberg has said that Facebook will release its financials to the public in April to comply with regulatory rules. That's typically an indication that an initial public offering isn't too far behind.
If reports are right and Facebook hits a $100 billion valuation, that will instantly skew the average size of the 2012 IPO class.
A Facebook IPO would also offer the loudest bragging rights and some of the steepest fees for the Wall Street banks that win a slice of the offering.
For the U.S. stock exchanges vying for relevance amid the increasingly competitive global listings landscape, winning the Facebook IPO could give either the Nasdaq (NDAQ) or the NYSE (NYX, Fortune 500) a better raison d'etre.
But can Facebook revive a stalled IPO market?
The short answer is no. "Facebook's IPO is completely its own entity," said Lise Buyer, principal of IPO consulting firm Class V Group.
The 2011 U.S. IPO class raised $36.3 billion, according to IPO tracking firm Renaissance Capital. While that was down a scant 6% from the prior year, it was 32% below the $49 billion raised in 2007, before the financial crisis.
The number of U.S. companies that went public in 2011 also retreated from 2010, slipping 18% year over year.
Should Facebook raise the much talked about $10 billion, the social network's offering would be equal to about 28% of the value of all 125 U.S. companies that went public in 2011.
To gauge the health of the broader IPO market, keep an eye on companies like user-generated review site Yelp, flash sale site Gilt Groupe, and organic consumer food company Annie's HomeGrown.
Yelp filed for a $100 million IPO back in November. A month later, Annie's also filed for a $100 million IPO. Gilt Groupe hasn't submitted official paperwork but it's expected to file in 2012. (See correction below)
Companies typically price offerings three to six months after they file these papers.
Right now, there are some 200 companies in the IPO pipeline, according to Renaissance Capital.
If they all go public, it could be a record year for IPOs, but, and it's a big "but." It will all depend on the health of the stock market and how other public offerings fare.
The performance of the most hotly anticipated IPOs of 2011 fizzled after their initial pop, which may be suggest that demand might not be around for long for new listings.
Demand Media (DMD) is down 70% since its went public in January. Web music company Pandora' (P)s stock has been cut in half since its June filing. Groupon (GRPN), LinkedIn (LNKD), and Zynga (ZNGA) are down 24%, 22% and 15% respectively.
Barry Silbert, CEO and founder of SecondMarket, built an exchange that offers private companies a way to sell shares. A vocal critic of the current state of the public markets says he's not worried about a blockbuster IPO year hampering his seven-year old firm's growth.
"We had the best year ever because of the systemic problems that exist in the public markets," said Silbert. "At the very least, SecondMarket is spring training for companies, but I think more and more it will be a permanent alternative for companies."
Correction: An earlier version reported incorrectly that Annie's hadn't yet filed for an IPO.