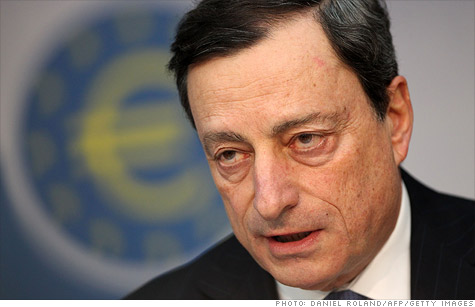 European Central Bank president Mario Draghi said the bank's non-standard measures are helping ease conditions in the interbank funding market.
NEW YORK (CNNMoney) -- The European Central Bank's latest effort to prevent a credit crunch in the European banking system appears to be showing signs of success, and some analysts say it could also be providing some relief for tensions in the government bond market.
ECB President Mario Draghi said Thursday that the first round of the central bank's Long Term Refinancing Operation, which pumped some €500 billion worth of 3-year loans into the banking system last month, has eased conditions for banks struggling to secure funding in the private market.
"We do think that at least this decision has prevented a credit contraction that would have been more serious, much, much more serious," Draghi said at a press conference in Frankfurt following the ECB's latest policy meeting.
In particular, Draghi said some markets for unsecured bank bonds have reopened since the lending program launched. That's encouraging, he added, because banks have more than €200 billion worth of bonds coming due this year.
Draghi also said there are indications that some of the loans are making their way into the real economy, despite a recent surge in overnight deposits at the ECB.
"We really see evident signs that this money doesn't simply stay in the deposit facility," said Draghi. "This money circulates in the economy."
Indeed, banks' overnight deposits at the ECB fell slightly Thursday to €470.6 billion from a record €485.8 billion Wednesday. But the amount of money parked at the ECB remains high, suggesting banks are still hunkering down.
The dip in overnight deposits at the ECB coincided with strong demand for Spanish and Italian debt at two auctions Thursday, raising speculation that some banks were using ECB funds to buy bonds issued by stressed euro area governments.
Draghi acknowledged that demand for shorter-term government bonds has been trending higher recently, but he downplayed any possible connection with the ECB's latest liquidity measures.
"We frankly don't have enough elements to say that," Draghi said, adding that many buyers of government bonds are not banks and therefore do not have access to ECB loans.
But some analysts say the jump in demand for Spanish and Italian debt Thursday, coupled with the dip in overnight deposits, could mean that banks are taking advantage of the so-called Sarkozy trade, named for the French president and his finance officials who have backed the idea.
The strategy involves banks buying government bonds, possibly with funds borrowed from the ECB, at the current market rate. Banks could then use those bonds as collateral against loans from the ECB, making a profit on the difference between interest rates.
"Today is really a positive sign that it is actually happening," said Natascha Gewaltig, director of European economics for Action Economics. "Banks are making immediate money without any risk on either side."
Analysts said it remains to be seen if the trend will continue. Italy, which drew strong demand at Thursday's sale of short-term bills, will offer longer-term bonds Friday.
Investors have welcomed recent efforts by the Italian government to enact structural reforms and make the nation's economy more competitive. But there is still widespread concern about Italy's ability to finance itself given its massive debt load and stagnant economy.
Tobias Blattner, a former ECB economist who now works for Daiwa Capital Markets in London, said demand at Thursday's debt auctions was driven mainly by Italian and Spanish banks.
"Banks in Italy and Spain are linked to the sovereign in one way or another," said Blattner. "If the government falls, they fall as well, so they might as well buy these bonds."
In contrast, large German and French banks, under pressure from shareholders and governments to dispose of risky assets, have been selling their Italian and Spanish debt holdings.
Still, if banks' overnight deposits at the ECB continue to decline, "then I think there's indeed evidence that some of this money is being used to buy peripheral bonds," Blattner said.
Meanwhile, the ECB held interest rates steady at 1%, after it cut rates at its previous two meetings. Draghi said the outlook for the eurozone economy remains "uncertain" and that "downside risks" remain.