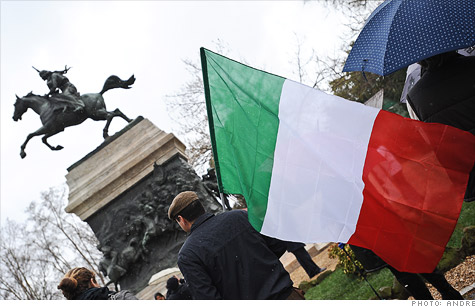 Borrowing costs eased following auctions for Italian bills and Spanish bonds.
NEW YORK (CNNMoney) -- Things are looking up in Europe, at least for now, as borrowing costs in Italy and Spain eased Thursday following strong debt auctions.
Spain's auction of nearly €10 billion worth of bonds in three different maturities met with strong demand, as did Italy's €8.5 billion of 12-month bills.
The European Central Bank was "supplying quite a bit of liquidity" by buying an undisclosed amount of bonds to prop up the market, as it typically does, said Frances Hudson, global thematic strategist for Standard Life Investments in Edinburgh, Scotland.
But the auctions were also driven by newfound confidence in the new leadership of the Spanish and Italian governments, she added. "You go into a halo effect because you've got a new government so people are willing to give them the benefit of the doubt."
David Rodriguez, quantitative strategist at DailyFX, noted that Spain wound up selling nearly twice the amount it had planned on auctioning, which signals real market demand for bonds, not just support from the ECB.
"Maybe the ECB stepped in, but the ECB wouldn't have the firepower to put €5 billion into that auction," he said. "I think what investors are seeing is the probability that these nations will remain solvent for the foreseeable future."
The healthy demand for Italian and Spanish bonds helped to drive up European stocks. London's FTSE (UKX) closed higher by 1.2%, the DAX (DAX) in Frankfurt rose 2.5% and the CAC 40 (CAC40) in Paris jumped 2.3%.
The auction results also helped to drive down bond yields. The average yield for the Italian 10-year bond slipped to 6.63%, remaining below the anxiety benchmark of 7%, and the average yield for the 10-year Spanish bond dropped to 5.13%.
But Hudson cautioned against extrapolating too much from the Italian bond auction and its impact on the 10-year bond yields, since it was for bills, not bonds. Also, she said she wasn't sure how long the renewed confidence would last.
Don't get too comfortable with European bonds, urged Marc Chandler, strategist at Brown Brothers Harriman, noting that more auctions lie ahead.
"Risk lies with the bond sale tomorrow, especially with the large increase in Italian bond prices today as the 5-year yield is off 60 [basis points] and the 10-year yield has dropped about 40 [basis points]," wrote Chandler, in a market report. "The year is long, and the amount that the sovereigns and banks need to raise is large."
The euro also got a modest boost Thursday, edging to $1.28 against the U.S. dollar, after hitting an 18-month low of $1.26 on Wednesday.
"At least on the short end of the curve, you see a little bit of confidence returning to the market," said Rodriguez, referring to the euro and European bonds.