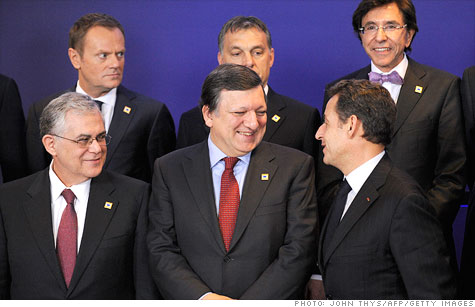 Top officials from the European Union met Monday in Brussels to discuss economic reforms and steps to contain the debt crisis in the eurozone.
NEW YORK (CNNMoney) -- European Union leaders agreed Monday to strengthen a financial firewall and most members of the 27-nation group will sign a new fiscal compact. But the first summit of the year ended without new solutions for the debt crisis in Greece.
The leaders of all but two members the 27-nation EU agreed to sign a pact designed to prevent governments from running excessive deficits and racking up unsustainable debts.
For now, the Czech Republic could not sign up, while Britain already rejected the treaty, which was first announced in October.
The leaders also agreed to implement the European Stability Mechanism, a permanent rescue fund, in July. The €500 billion ESM was originally set to enter into force next year, when a temporary bailout fund expires.
"The early entry into force of this permanent firewall will prevent contagion in the euro area and further restore confidence," said European Council president Herman Van Rompuy.
But the leaders did not propose any new measures aimed at resolving the situation in Greece, the nation at the center of the debt crisis in Europe.
Van Rompuy welcomed the progress that has been made in talks between Greece and its private sector creditors, saying a deal could be reached in the coming days.
He also called for a quick agreement on the terms of a second bailout for Greece, which is being negotiated with the EU, International Monetary Fund and European Central Bank.
Greece and its private sector creditors have yet to agree on a plan to write down the nation's debt by 50% as part of a debt exchange. Athens needs to seal the deal soon to secure additional bailout funds and avoid an all-but-certain default on bonds due in March.
At the same time, there are signs Greece may need more bailout money than previously expected. EU leaders agreed in October to provide a second €130 rescue program for Greece, but analysts say the nation may need up to €145 billion given its deteriorating economy.
Germany, the richest eurozone economy, remains cool to backing additional support for Greece. The German Finance Ministry has proposed giving EU authorities veto power over Greek budget policies as a condition of more bailout money, which Athens rejected as an infringement of national sovereignty.
Still, borrowing costs for Italy and Spain have come down over the last few weeks and both nations have been able to successfully sell short-term bonds. The improvement in Italian and Spanish bond markets coincided with aggressive moves by the European Central bank, which poured nearly €500 billion into the banking system in December.
EU leaders have been hoping to move beyond the crisis talks that dominated last year's summits to focus on larger economic and political challenges. But ongoing concerns about a default by Greece and renewed worries about Portugal this year have served as a potent reminder that the crisis is far from resolved.
"We need discipline but we also need growth," said Jose Barroso, president of the European Commission. "We have a strategy and we are staying the course."
The leaders also outlined a series of relatively modest measures aimed at reviving economic growth, including steps to boost youth employment and help small businesses grow.