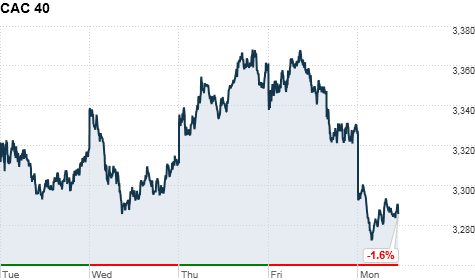 Click on chart to track world markets
NEW YORK (CNNMoney) -- World markets were under pressure Monday, dragged down by uncertainty in Europe, where leaders have failed to agree on a solution for the Greek debt crisis.
The FTSE (UKX) in London and the DAX (DAX) in Frankfurt both dropped about 1.1% at the close and the CAC 40 (CAC40) in Paris fell 1.6%.
Markets closed lower in Asia, where the Shanghai Composite (SHCOMP) dropped 1.5%, the Hang Seng (HSI) in Hong Kong fell 1.7% and Tokyo's Nikkei (N225) slipped 0.5%.
European Union leaders gathered on Monday for their first summit of the year. They're expected to back a treaty that would speed implementation of the European Stability Mechanism, which serves as the financial buttress for the 27-member EU.
But investors were anxious about the fact that Greek leaders and creditors in the private sector have yet to reach agreement on a restructuring of government debt. Athens needs to seal the deal soon to secure additional bailout funds and avoid an almost-certain default on bonds due in March.
"Greece remains the most relevant short-term concern," wrote Deutsche Bank analysts Francis Yared and Dominic Konstad, in a research note.
"The situation remains fluid," wrote the analysts, "But logic still argues in the favor of a coercive [private sector involvement] to be implemented (as opposed to outright default or fully voluntary [private sector involvement]) and a new loan to be agreed with the troika."
The International Monetary Fund, European Commission and European Central Bank are collectively known as the troika.
The Greek debt situation appears to be getting more complicated after German leaders sought "two monumental concessions," said Marc Chandler, strategist for Brown Brothers Harriman, in a research note.
The German proposal calls for Greece to give up control of its own finances by installing a budget overseer who would be appointed by the European Union.
The Greeks were insulted. Chandler said Greek Finance Minister Evangelos Venizelos' response was to caution Germany "from giving Greece an ultimatum between assistance and dignity."
In other European news, a Spanish report on gross domestic product showed that the Spanish economy grew 0.3% in the fourth quarter compared with a year earlier. However, compared with the prior quarter, the GDP actually registered as a contraction.
Borrowing costs in Italy retreated following a series of strong bond auctions Monday. The yield on the 10-year Italian bond edged as low as 5.9%. But Portugal continues to be weighed down by its record high rates, with the yield on the 10-year Portuguese bond rising to 17%.
The euro eased against the dollar but at $1.31, it's had a nice run up over the past week.
European malaise infected U.S. stocks. The Dow Jones (INDU) industrial average and the S&P 500 (SPX) and both slid 0.6% in midday trading at the Nasdaq (COMP) slipped 0.4%.