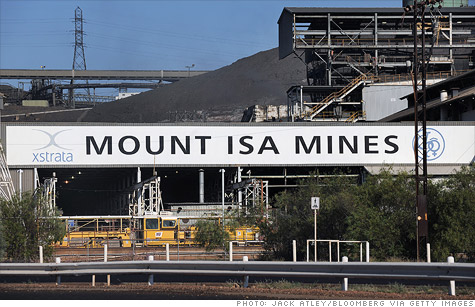 Swiss company Glencore is in the process of acquiring Xstrata, shown here at one of its mining operations in Australia.
NEW YORK (CNNMoney) -- In a huge consolidation of the international mining industry, Swiss company Glencore International has agreed to acquire rival Xstrata in an all-stock deal, according to a joint statement.
The combined firm -- to be named Glencore Xstrata International -- would have a market value of $90 billion and be headquartered in Switzerland, where both firms currently maintain their home base.
Under the terms of the deal, Xstrata shareholders would receive 2.8 Glencore shares for each share they hold. The companies said the price marks a 15% premium over the value of Xstrata shares on Feb. 1, when talk of the deal first surfaced.
Glencore is Xstrata's largest shareholder, with a 34% stake. Once the deal is completed, Xstrata shareholders will control 45% of the combined company.
Xstrata (XSRAF) is the world's fourth-largest copper producer and one of the largest zinc and nickel miners. The company, which employs 70,000 people in 20 countries, reported 2011 net profit of $5.7 billion on nearly $34 billion in revenue.
By comparison, Glencore (GLCNF) employs nearly 60,000 people in at least 40 countries, with interests in a variety of metals and minerals, as well as oil, coal and agricultural commodities such as wheat, corn, oil seeds and sugar.
Glencore preliminarily reported 2011 revenue of $186 billion; final results for the year are scheduled to be released next month. Glencore went public last May, and its stock is listed on London's FTSE 100 (UKX) and in Hong Kong.
Xstrata (XSRAF) is traded on exchanges in London and Zurich.
Xstrata's current chief executive, Mick Davis, would become CEO of the combined group, while Ivan Glasenberg, the current CEO of Glencore, would be the deputy CEO and president.
It's not clear how many regulatory hoops the two companies may need to jump through before the deal comes to fruition. And minority shareholders may also not be keen to sign on. According to news reports, shareholders had hoped for a sweeter deal than what Glencore is offering.
Charl Malan, a senior metals and mining analyst for Van Eck Global, said the deal would likely close during the third quarter. While the merger would create a commodities giant, Australian mining giant BHP Billiton (BHP) would remain the largest competitor, he added.
But the merger could change the mining industry landscape in Africa. Xstrata has a heavy presence in South Africa while Glencore is active in Zambia and the Democratic Republic of Congo. The merger could create a "wake up call" to the rest of the industry to ramp up their presence on the continent, suggested Malan.
Shares of other rival miners were mixed Tuesday, with Rio Tinto (RIO), BHP Billiton, Southern Copper (SCCO) and Freeport McMoRan Copper & Gold (FCX, Fortune 500) mostly lower in midday trading.