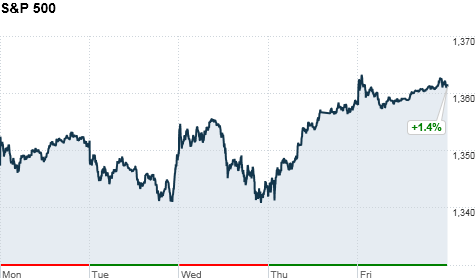 Click chart for more market data.
NEW YORK (CNNMoney) -- Can the market sustain its rally, or will prospects of a Greek default shatter investors' risk appetite?

The Dow Jones Industrial Average (INDU) closed at its highest level since 2008 Friday. For the year, the Dow is up almost 6%, and the S&P 500 (SPX) is up more than 8%. The Nasdaq (COMP) has made an impressive 13% run.
Yet, the possibility of a Greek default looms large over world markets. European finance ministers will meet Monday, and are expected to sign off on Greece's latest economic reform proposal.
Greece needs that sign off from Europe's finance ministers to avoid defaulting on a €14.5 billion bond payment due March 20. Another delay is unlikely to rattle the markets, but if it becomes clear that Greece will default, markets strategists fear a sharp sell-off.
"Markets have priced in a positive outcome," said Joseph Tanious, global market strategist at J.P. Morgan Asset Management.
All three indexes posted solid gains for the week, as investors largely ignored concerns over Greece and focused squarely on better-than-expected economic reports in the United States. The S&P was up 1.4%.
With few key economic reports on the agenda this week, and U.S. markets closed Monday in observance of Presidents' Day, investors will keep an eye on quarterly earnings from major retailers to assess the health of the American consumer.
"There will be a heightened sensitivity to retailers and their earnings to either confirm that the U.S. economy is picking up and recovering or cast a doubt on the consumer's appetite," said Tanious.
On Tuesday, retailers Barnes & Noble (BKS, Fortune 500), Home Depot (HD, Fortune 500), Macy's (M, Fortune 500), Wal-Mart (WMT, Fortune 500) and Saks (SKS) will report quarterly results.
On Thursday, Kohl's, Sears (SHLD, Fortune 500), Target (TGT, Fortune 500) and Gap (GPS, Fortune 500) will report.
On Friday, J.C. Penney (JCP, Fortune 500) will release its earnings.
Other quarterly earnings due out next week include Dell (DELL, Fortune 500) and Kraft (KFT, Fortune 500) on Tuesday and Hewlett-Packard (HPQ, Fortune 500) on Wednesday
Meanwhile, investors will continue to monitor developments in Iran to determine whether concerns over the country's nuclear program will drive up the price of oil.
U.S. crude oil rose 3% last week to close at $102.35, and economists worry that further increases in oil prices could threaten the global economy.
"I'm watching oil with trepidation," said Ram Bhagavatula, partner at the hedge fund Combinatorics Capital. "It's the one thing that could threaten the recovery."