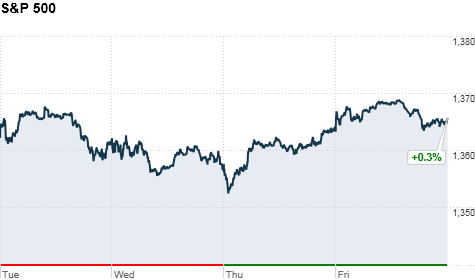 Click chart for more markets data.
NEW YORK (CNNMoney) -- Expect the upward march of oil and gas prices to overshadow bellwether corporate earnings, economic reports and a read on the health of the European banking sector -- all of which are due next week.
Investors will spend most of next week grappling with whether the rising price of oil could crimp the stock market's 2012 rally.
All three indexes eked out another week of roughly 0.5% gains. The Dow Jones industrial average (INDU) is up 6.3% so far this year, hitting its highest level since May 2008. For 2012, the S&P 500 (SPX) is up 8.6%, and the Nasdaq is up 13.8%.
Still, economists and analysts worry that rising gas prices could cause consumers to cut back on spending, which could threaten an already shaky economic recovery.
U.S. crude oil prices are at their highest levels since May 2008, hitting $109.77 a barrel. U.S. oil prices climbed nearly 6% this week. In turn, the average price of a gallon of gas jumped more than 13 cents.
Investors will watch to see what Federal Reserve Chairman Ben Bernanke says about energy prices and the broader economy when he delivers his semiannual address to Congress on Wednesday.
"If there are any signs that the Fed would be supporting the Treasury or mortgage markets later this year because of energy prices, investors could take that as a buying opportunity," said Robert Tipp, chief investment strategist at Prudential Fixed Income.
The other key economic reports on tap this week are the Case-Shiller Home Price Index for December, due out Tuesday; readings on January's personal income and spending, due out Thursday; and the ISM manufacturing index, also to be released Thursday.
Better-than-expected economic reports have helped fuel the stock market's rally this year, so analysts say investors have largely priced in positive data. Anything that falls below expectations could cause an outsized sell off in stocks.
"There's not a lot of tolerance for bad numbers," said Uri Landesman, president of the fund Platinum Partners. "The market is discounting good news."
Meanwhile, company earnings are playing a larger role in the overall market and in driving prices of individual stocks. That's a sharp turnaround from 2011, when stocks largely moved in correlation with each other based on broader economic news.
"Greece is appearing to be moving into the rearview mirror, and stock-specific stories are coming into view," said Dan Greenhaus, chief global strategist at BTIG.
Earnings season is nearing a close, yet numerous bellwether stocks will report quarterly results this week: Home improvement retailer Lowe's (LOW, Fortune 500) and Priceline (PCLN) report earnings Monday. AutoZone (AZO, Fortune 500), Cablevision (CVC, Fortune 500) and Dreamworks Animation (DWA) report results on Tuesday. Retailer Liz Claiborne, where shares have jumped 20% in 2012, will report Wednesday.
The threat of Europe's sovereign debt crisis is taking a momentary backseat to economic and corporate news, but investors will spend Wednesday digging into how much debt eurozone banks will take from the European Central Bank.
The central bank will hold its second auction to allow banks to borrow three-year loans at low interest rates through its so-called long-term refinancing operation (LTRO) program. In its first auction in December, banks borrowed €489 billion from the ECB. Analysts expect that number to increase this time around.
"This program requires a very nuanced read," said Prudential's Tipp. "It will take some time for analysts to disentangle the numbers, but it gives us a window into the European banking system to see how desperate different institutions are."