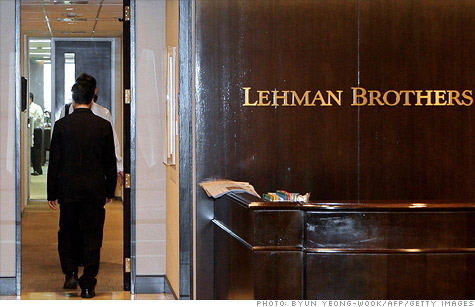 Lehman Brothers survived for 158 years before declaring bankruptcy in 2008. Its final chapter could take several years to wrap up.
NEW YORK (CNNMoney) -- Defunct investment bank Lehman Brothers moved into its final chapter Tuesday, but it will take years before the 161-year-old financial firm will close the book on its storied history.
Three and a half years after it filed for bankruptcy in New York, Lehman Brothers Holdings emerged from court protection Tuesday with a plan to redistribute roughly $65 billion to creditors before closing its doors for good.
Those doors are housed on a few floors of the Time & Life building in midtown Manhattan, not far from the gleaming Times Square skyscraper that once housed about 9,000 of Lehman Brothers' estimated 25,000 employees.
Now, under the supervision of seven new directors, Lehman Brothers' litany of advisers, lawyers and ex-employees will remain busy. There's $10 billion in real estate, $9 billion in private equity investments, $3 billion in corporate loans and $2 billion in derivatives left to sell, as well as several multi-billion legal battles left to fight.
"We've been liquidating since the date of filing," said Steven Cohn, Lehman's treasurer in bankruptcy. "Our job was to marshal assets and we've gone from very little cash to managing about $30 billion in cash."
The $65 billion Lehman plans to redistribute is but a fraction of the estimated $613 billion in debts held by the bank in 2008.
Not included in the $65 billion recovery estimate is any payout that could come from ongoing litigation that Lehman's fighting against JPMorgan Chase (JPM, Fortune 500) over that investment bank's alleged role in the bankruptcy.
Immediately after Lehman declared bankruptcy, Barclays (BCS) paid $1.3 billion for most of the firm's North American operations, its Times Square headquarters, and about 9,000 employees. Nomura Holdings (NMR) paid roughly $200 million for Lehman's operations in Asia.
About $10 billion of Lehman's current cash balance will be repaid to creditors in mid April, the first payout since Lehman Brothers filed for Chapter 11 on Sept. 15, 2008.
The value of Lehman's estate could still change if real estate values recover or if the market continue to appreciate (or fall).
The Dow has jumped about 20% since Lehman filed. But it's been an expensive three and a half years in bankruptcy for the firm, with fees already topping $1.6 billion.
Although the real estate market has bounced back a bit, what Lehman paid for certain real estate investments still seems staggering. Lehman took a 50% stake in a $22 billion buyout of apartment operator Archstone-Smith in 2007 that's now valued at roughly $4 billion.
Archstone is among Lehman's largest real estate holdings, and the firm's estate is embroiled in a battle for control with investor Sam Zell. Lehman also holds a stake in southern California land developer SunCal.
Among the hedge funds that have been active buyers and could stand to profit are Elliott Management, King Street, Fir Tree, Och-Ziff, Avenue Capital, Paulson & Co. and Baupost Capital, according to court filings.
Lehman's former executives have repeatedly called the defunct bank the scapegoat of the financial crisis after it failed, while its competitors were bailed out by the U.S. taxpayers.
Whatever Lehman is or was, the tumultuous, ultimately fatally troubled firm has only a finite time left with billions to sell and miles to go before it sleeps.