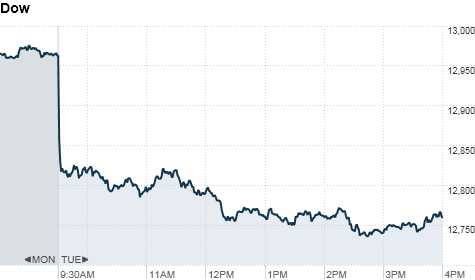 Click for more market data.
NEW YORK (CNNMoney) -- Investors took a big step back Tuesday, but stocks have had a pretty strong year so far, so the retreat isn't ringing any alarm bells.
"You're still seeing echoes of the risk-on-risk-off trade," Jonathan Lewis, chief investment officer at Samson Capital Advisors. "But I would offer that all investors are doing is restructuring and rebalancing portfolios."
Since the start of the year, stocks have slowly and steadily made their way toward their highest levels since 2008, helped along by the U.S. economy's steady improvement.
While March has not been a good month so far, the Dow is still up 4.4% for the year. The S&P 500 has gained nearly 7% and the Nasdaq is up 11.7% year to date.
Stocks were pressured Tuesday by weaker economic data out of Europe and rising yields on euro-area government bonds, said Lewis.
The Dow Jones industrial average (INDU) fell 207 points, or 1.6%, to end at 12,759. That marks the worst day for the index since Dec. 8, when it fell 1.63%. Today also marks the first time the Dow has suffered a triple-digit loss in 45 days.
Financial stocks were among the hardest hit, with Bank of America (BAC, Fortune 500) and JPMorgan Chase (JPM, Fortune 500) both down about 3%. The only Dow component showing a modest gain was Intel (INTC, Fortune 500).
The S&P 500 (SPX) fell 21 points, or 1.5%, to 1,343. The Nasdaq (COMP) sank 40 points, or 1.4%, to 2,910. Both indexes suffered the worst one-day performance so far this year.
Meanwhile, investors are wary of political tension between Iran and Israel, which has driven oil and gas prices sharply higher, said Mark Martiak, senior wealth strategist at Premier Financial Advisors.
"It's more based on what's going on globally," said Martiak, pointing to unresolved debt issues in Europe and signs of slowing economic growth in China.
U.S. stocks finished in the red Monday, after China lowered its annual growth target.
Investors are also keeping an eye on Greece, where private-sector bondholders need to officially agree to a crucial restructuring of the nation's debt this week. If bondholders do not sign on in sufficient numbers, Greece's bailout could be in jeopardy and the nation could face a hard default.
Analysts say markets are still poised to move higher, given the recent improvement in U.S. economic data, although trading could remain choppy.
"There's a lot of uncertainty in the market," said Martiak.
World markets: European stocks closed in the red. Britain's FTSE 100 (UKX) dropped 1.9%, the DAX (DAX) in Germany shed 3.4% and France's CAC 40 (CAC40) lost 3.6%.
Economic growth in the European Union contracted 0.3% in the fourth quarter, according to the second estimate from Eurostat, the EU statistics agency. That's compared with third-quarter growth of 0.1% in the eurozone and 0.3% in the EU.
Asian markets ended lower. The Shanghai Composite (SHCOMP) closed down 1.4%, while the Hang Seng (HSI) in Hong Kong lost 2.2% and Japan's Nikkei (N225) fell 0.6%.
It was the second day of declines on Chinese Premier Wen Jiabao's lower target for China's economic growth -- underscoring the need to make the country's breakneck development more sustainable.
Economy: Investors will be on edge leading up to a big news day on Friday, when the February jobs report will be released. Also coming later this week are reports on consumer credit, productivity and the U.S. trade balance.
Companies: After the market closed, Internet radio station Pandora reported quarterly earnings and profits that missed analysts expectations. Shares fell 14% in extended trading.
Shares of Chesapeake Energy (CHK, Fortune 500) fell after the company announced a partnership with KKR (KKR, Fortune 500) to invest in mineral interests and royalties in key domestic oil and gas basins.
Online jobs search firm Monster Worldwide (MWW)'s shares spiked after the company announced it had retained Stone Key Partners and BofA Merrill Lynch to review "strategic alternatives."
While the company did not reveal its specific plans, hiring bankers to pursue alternatives often means a potential sale or spin-off.
Dick's Sporting Goods (DKS, Fortune 500) reported quarterly earnings of 88 cents a share on $1.6 billion in revenue, matching analysts' estimates.
Shares of weight-loss company Nutrisystem (NTRI) plunged 10% after the company said late Monday it expects earnings and sales growth to be below analysts' forecasts this year.
Shuffle Master (SHFL), a gaming supplier, announced plans Monday to acquire online poker company Ongame Network. The Las Vegas-based company also reported strong earnings and sales growth for the first quarter.
Currencies and commodities: The dollar strengthened against the euro and the British pound, but dropped versus the Japanese yen.
Oil for April delivery slipped $2.02 to end at $104.70 a barrel.
The national average price for a gallon of gasoline eased Tuesday, dropping three-tenths of a cent to just above $3.76 a gallon, after pushing higher for 27 straight days.
Gold futures for April delivery fell $31.80 to $1,672.10 an ounce.
Bonds: The price on the benchmark 10-year U.S. Treasury rose, pushing the yield down to 1.94% from 2% late Wednesday.